SELF-HOSTED WORDPRESS MAINTENANCE
Sites by Sara has been offering professional maintenance services for years to WordPress clients who wish to protect the integrity of their website's ​ security and performance​ .
A maintenance plan is the equivalent of having insurance and an extended warranty on your website property. With as many changes happening online, we strongly recommend making sure your site is protected and getting the updates it needs to stay healthy long into the future!
Now you can easily protect your investment and ensure that your website will be operating in top condition for years to come by enrolling in a maintenance plan.
Our professional Peace of Mind maintenance plan ensures the integrity of your website's security, browser compatibility, responsive design, and overall site performance​ .
Daily backups of your website and database saved in two separate locations.
WordPress version updates as soon as WordPress posts the updates.
Plugin updates & security patches on a weekly basis.
Theme updates on your site on a monthly basis.
Child theme updates on a weekly basis or when the upgrade is available.
Automated emails sent in case of critical security issues.
Monthly reports of website health.
Website database cleaned and screened for spam on a weekly basis.
Automated website backups of your files and database taken daily.
24/7 Comprehensive Support via live chat support and a ticketing system.
Technology Upgrades to ensure that your website is always up to date.
Security Checks of our server to keep up with the new security threats.
State-of-the-Art Data Centers on the east and west coasts of the USA.
Immediate reinstatement of your website to its most recent clean backup copy if it is hacked or otherwise becomes unstable.


The maintenance service plan provides you with the peace of mind that someone is monitoring and seeing to the technical health of your site.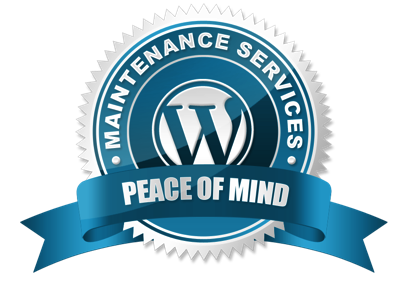 STARTER
LEVEL 1
LEVEL 2
LEVEL 3
LEVEL 4
LEVEL 5
MULTISITE or
E-COMMERCE

LEVEL 6
MULTISITE or
E-COMMERCE

# of
Pages
1-20
21-199
200-399
400-499
500+
Up to 200 pages
Up to 500 pages
# of
Plugins
Up to 5
Up to 10
Up to 15
Up to 20
Up to 40
Up to 60
Up to 100
Monthly
Rate
$39
$59
$79
$99
$109
$179
$239