Google My Business Optimization
Enhance Your Online Visibility with Google My Business Optimization Services
Google My Business Listing Optimization (GMBLO) Services
Google MyBusiness Listings are the ones that show up along with a Map of the area. The top 3 results (aks the "Google 3-pack") are usually shown. This is a great way for prospective clients to view your reputation (reviews), and see your business hours and locations at a glance.
You are missing out on local searches that will show your business to people looking for your services from within your local area if your business is not listed there.
Here is an example of a business service search and it's respective results: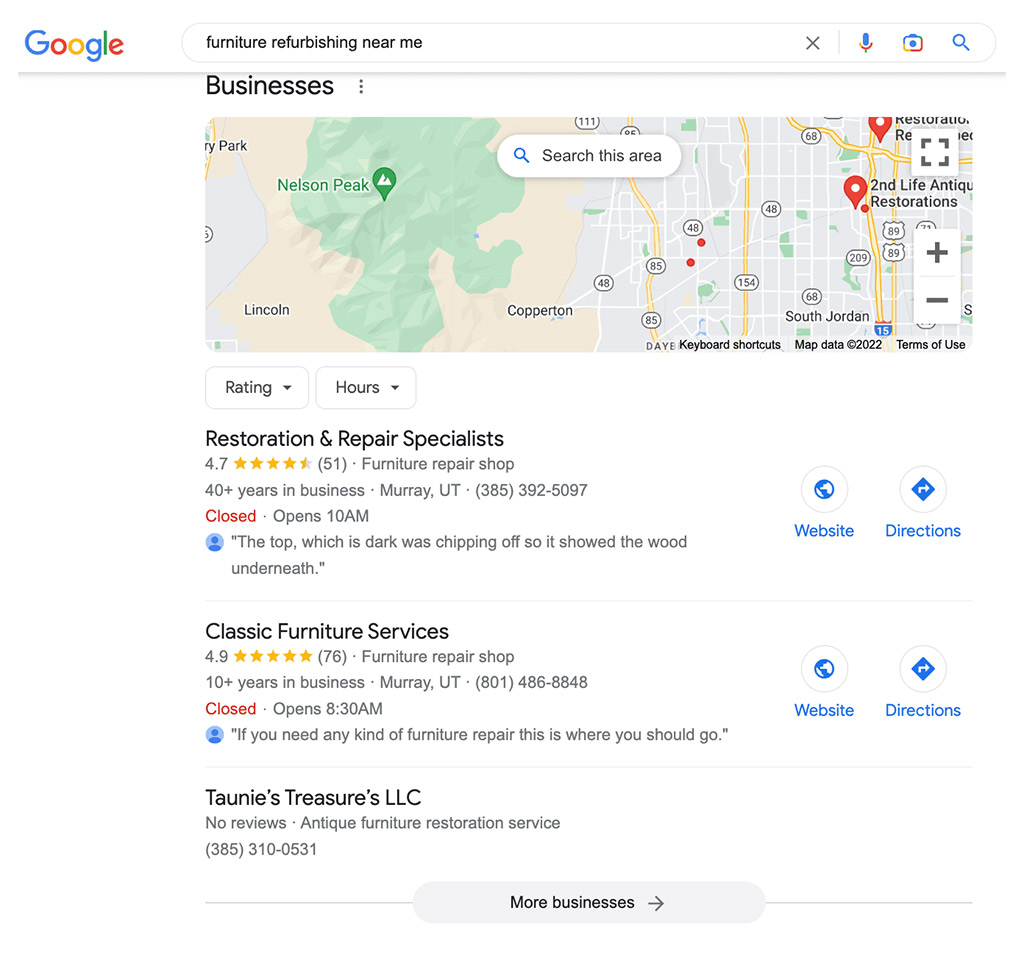 We will proactively optimize your listing for local searches so that you show up in the Google 3-Pack for your preferred keywords.
We will add images, geotarget and optimize your current photos, create and share GMB status updates, and build citations that will help your listing appear at the top of Google Local's search results.
We can rank more quickly for local results than typical organic SEO, so we highly recommend this service.
Rates:
Setup and Optimization services: $650
Ongoing Optimization: $300/month
Enhance Your Online Visibility with Google My Business Optimization Services
Don't miss out on the opportunity to optimize your Google My Business profile and boost your online presence. Contact Sites by Sara today to take advantage of our professional Google My Business Optimization services. Let us help you maximize your visibility, attract more clients, and achieve higher rankings on Google. Take the first step towards business success by reaching out to us now.
Sites by Sara, your trusted partner for Google My Business optimization services. In today's digital age, having a strong online presence is essential for businesses of all sizes. One of the most powerful tools at your disposal is Google My Business (GMB). By optimizing your GMB profile, you can attract more clients, receive more calls, and drive more traffic to your physical location. Let us guide you through the process of unlocking the full potential of GMB and reaping the benefits it offers.
Benefits of Claiming Google My Business Profile
Claiming your Google My Business profile is a crucial step in establishing your online presence. By doing so, you unlock numerous benefits that can help your business thrive. Let's explore some of the key advantages:
Increased Visibility:
When your GMB profile is optimized, your business is more likely to appear in relevant searches on Google My Business and Google Maps. This increased visibility exposes your business to a wider audience, especially those searching for local products or services. By targeting local customers effectively, you can attract more qualified leads.
Credibility and Reputation Boost:
Positive customer reviews play a significant role in establishing credibility and reputation in the digital landscape. Google Reviews are particularly influential, as they contribute to your local SEO score and enhance your online presence. Encouraging customers to leave reviews on your GMB profile can help build trust and credibility, ultimately driving more customers to your business.
Google Images Ranking:
Did you know that having a rich collection of photos on your GMB profile can boost your visibility on Google Images? By uploading high-quality images that showcase your products, services, and premises, you increase your chances of appearing in Google Images search results. This can drive additional traffic and awareness to your business.
Business Hours Display:
Your GMB listing prominently displays your business hours on the first page of Google search results. This feature allows potential customers to quickly check whether your business is open or closed, saving them time and ensuring they can visit you at the right time. Displaying accurate and up-to-date business hours fosters trust and convenience for your customers.
Location Authority and Outranking Competitors:
GMB offers a valuable feature called GMB Posts, which allows you to share relevant content about your local business. By consistently posting informative and engaging content, you contribute to building your location authority. This increased authority can help you outrank competitors in Google search results, attracting more customers to your business.
At Sites by Sara, we understand the importance of Google My Business optimization in today's competitive digital landscape. Here's why you should choose us as your partner in enhancing your online visibility:
Expertise and Experience:
Our team of professionals specializes in Google My Business optimization strategies. With years of experience in the field, we have a deep understanding of the factors that influence GMB rankings and visibility. Trust our expertise to maximize your GMB profile's potential.
Customized Solutions:
We believe in tailoring our services to meet the unique needs of each client. Our approach involves analyzing your business's specific requirements and goals, developing a customized strategy that aligns with your objectives. By understanding your business inside out, we can deliver the best possible results.
ProvenResults and Success Stories:
Don't just take our word for it—our track record speaks for itself. We have helped numerous businesses optimize their Google My Business profiles and achieve outstanding results. We have a portfolio of success stories and testimonials from satisfied clients who have experienced increased visibility, higher rankings, and a surge in customer inquiries and conversions. Let their success stories inspire your confidence in our services.
Comprehensive Approach:
We take a holistic approach to Google My Business optimization, considering all the important factors that contribute to your online presence. From auditing your website and backlinks to optimizing practice area pages and embedding Google My Business maps on your website, we leave no stone unturned in our quest to enhance your visibility and attract more clients. Our comprehensive approach ensures that every aspect of your online presence is optimized for maximum impact.
Ongoing Monitoring and Support:
Our commitment to your success doesn't end with the initial optimization process. We believe in long-term partnerships and provide ongoing monitoring and support to ensure that your Google My Business profile continues to perform at its best. We regularly track location-specific keyword positions, monitor changes in the digital landscape, and make necessary adjustments to maintain and improve your rankings.
Ready to unlock the full potential of your Google My Business profile? Contact Sites by Sara today to take advantage of our professional Google My Business Optimization services. Let us help you attract more clients, increase your online visibility, and surpass your competition. Don't wait any longer—start optimizing your Google My Business profile now for long-term success in the digital world.
Get Started