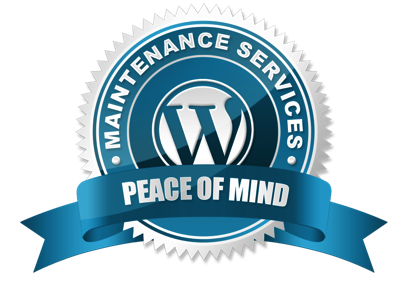 Word Press Peace of Mind Maintenance Services
Sites by Sara offers Word Press maintenance services for clients who wish to protect the integrity of their website's security and performance. Our Peace of Mind Maintenance Plan includes:.
Updates to your site's version of WordPress, ensuring that your site is up-to-date with the latest security patches and updates.
Changing of passwords for WordPress and web hosting accounts.
Backups of your site sent to a dedicated Dropbox folder setup for your account, so if anything "breaks" it can easily be rolled back.
Regular security monitoring to ensure that any sensitive data collected is not stored long-term on client servers, unless absolutely necessary. Purging of sensitive data at the client's request is included for Peace of Mind clients.
Immediate response from us to reinstate your website to its most recent backup copy (within 48 business hours) if it is hacked or otherwise becomes unstable.
The monthly service fee provides you with the peace of mind that someone is monitoring and seeing to the technical health of your site. The plan ensures that your site is always up-to-date and protected.
The Peace of Mind plan is optional, however your site is at RISK of breaking or becoming outdated. While clients can install updates on their own, it is not recommended without adequate WordPress training, as installing these updates can disable your site functionality.
Having the Peace of Mind plan in place is the equivalent of having an alarm system installed at your office; it doesn't guarantee you won't get "broken into," but it does detour amateur hackers from penetrating weaknesses while making it much harder for anyone who may deliberately want to hack into your site. And, it provides the added assurance (INSURANCE) that if anything is damaged/stolen it will be replaced promptly so your site will not suffer excessive downtime.
The Peace of Mind plan runs from $39 to $99/month, depending upon the complexity of the site and the number of plugins. A minimum 6-month enrollment period is required for Maintenance Services.
Clients who do not wish to get the maintenance plan, can have their website updated to the latest version of Word Press along with updating out-dated plugins. All out-dated plugins do need to be updated at the same time as the Word Press version update in order to ensure proper functioning of the site. These services include finding a comparable plugin that will work if a plugin becomes inactive with the latest version of Word Press. We always backup your site and test each plugin with the newest version of WP on your behalf when running updates. A la Carte services are $225 to update Word Press, plus $25 per plugin.
MAINTENANCE SERVICES

To ensure your website is backed up regularly with the latest
security updates in place. Includes full website restoration.
WordPress UPDATES
Website BACKUPS
Passwords RESET
Monthly Rate
Level 1
Quarterly
Weekly
Annually
$39
Level 2
Quarterly
Daily
Bi-annually
$59
Level 3
Monthly
Daily
Bi-annually
$79
Level 4 (required for sites exceeding 500 pages)
Monthly
Daily
Quarterly
$99