9 Benefits of Google Ads Management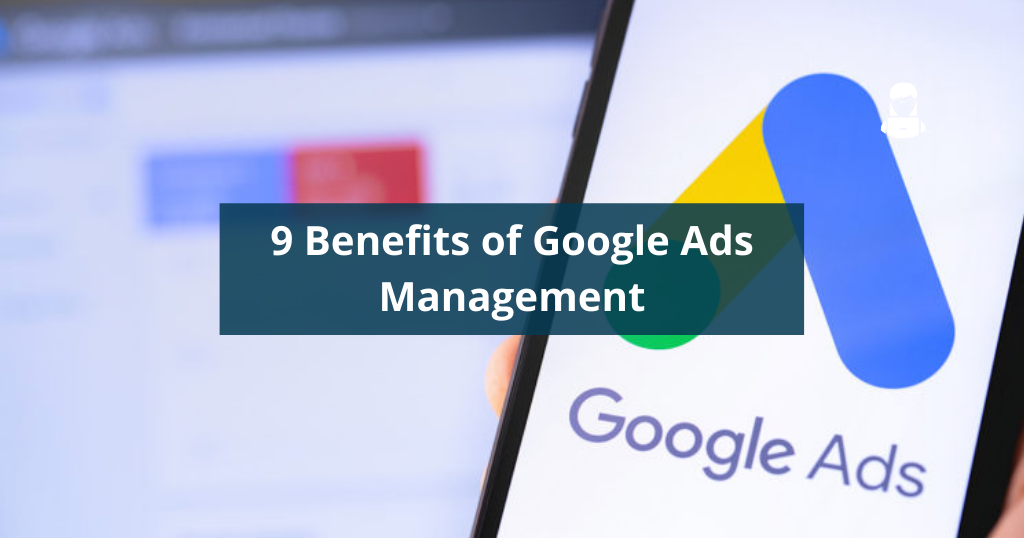 Online advertising is an effective way to improve your visibility and elicit more sales, but it requires a sound strategy. Google Ads is one of the most effective and popular methods of online advertising available. It's a PPC service, which means your business pays a small fee every time that someone clicks one of your ads, whether it's a sponsored result, video, text, or banner. Your Google Ads can target a specific keyword or location, making it completely scalable and ideal for businesses of all sizes and types. Why would a business run a Google Ad Campaign, what is the difference between an automated and managed campaign, and what can you expect from Google Ads Management?
Why Google Ads?
If you are looking for a marketing platform that can help you reach millions of potential prospects, then Google Ads is the place to do it. With the right strategy in place, you can enjoy fast results and a high return on investment. Google Ads:
Increases the number of your leads and your subsequent customer base exponentially. When it comes to lead generation, Google Ads is hard to beat. With the right approach, you can lead very targeted customers to your website and increase visibility where it will benefit you the most.
Is completely scalable. As a flexible marketing platform, it's ideal for use by every business in every industry. It also readily adapts to your budget specifications while still providing a high degree of ROI.
Taps into a large and high quality traffic source. Google is not only the largest search engine in the world, but it also has very sophisticated algorithms that put relevant information in front of the end user. The search engine continually improves and prides itself on producing the most relevant results possible. This has a positive effect on businesses who choose to advertise on Google Ads, providing targeted results and high quality traffic sources that are more likely to take action after visiting your website.
It's obvious that a Google Ads campaign can be an effective way to improve your visibility and garner more business. At the same time, making the most of your investment requires a sound strategy, and implementing the right strategy requires a partner that can manage your Google Ads campaign effectively. Professional Google Ads management has several notable benefits:
Effective Results on Any Budget
When you use Google Ads, you have total control over your advertising budget. Remember that you don't pay anything unless someone clicks on your ad, and you can set daily or monthly spending limits to keep your budget on tracking and maximize your ROI.
Results You Can Measure
It can be difficult to measure the outcomes and efficiency of traditional advertising campaigns. Google Analytics offers total transparency and access to stats like number of clicks, click-through rate, impressions, and more. An Ads manager can translate these into actionable insights.
Insights Into Your Target Demographic
Do you wish you had a way to read your prospect's mind? Google Ads comes pretty close. You can learn a lot about your target audience in Google Analytics, like the search terms they use, their location, and even the times of day they tend to search for you. This allows you to target your campaigns to improve the results of your ad efforts.
Fast Results
Radio, TV, and print advertising campaigns are tedious to put together and have slow results. Google ads make your ROI much more immediate. A professional can create a campaign quickly and post it instantaneously, which translates to immediate jumps in website traffic.
Refine Your Demographic
A common mistake people have when advertising is casting too large of a net. With Google Ads, you can narrow down your focus to people who are most likely to interact with your brand, whether it's completing a form submission or calling your office.
A Hands-On Approach Helps Drive Your Business Forward
There are two main types of Google Ads: a hands-on campaign and a version called Google Ads Express. The latter creates a completely hands-off approach for business owners, but it often ends up costing them more than the time they save, because of its lack of specificity and generalization of targets. A hands-on approach, coordinated by a professional, helps save you time while providing a more robust ROI compared to Google Ads Express. Having a team manage your Google Ads campaign has several benefits:
Specific Keywords Driven by Analytics
A Google Ads Express may generate keywords based on the information you provide, which automates the marketing process. Unfortunately, these keywords are general and cast too wide of a net. It is essential to choose keywords that narrow down to location, niche, and target market. A professional can help you choose keywords and refine them to maximize your return on investment.
Filter Out Keywords
Google Ads Express does not offer the option to filter out keywords that don't work for your brand. Continual refining of your keywords based on evolving user preferences is essential. A professional Google Ads manager makes decisions in real-time based on data, which includes filtering out keywords that are not relevant to your target audience.
Remarket To Reach Users Where They Are
Remarketing is an essential tool that displays your ads across the devices of your users after they visit your website. A Google Ads manager can optimize remarketing to bid strategies and lists to maximize the effectiveness of your campaigns and reduce your PPC costs.
Google Ads are an effective way to reach more of your target demographic and make the most of your marketing spend. However, to run your campaign as efficiently as possible and ensure proper targeting through keywords, you need the help of an experienced professional. At Sites By Sara, we offer comprehensive Google Ads Management services that can help you maximize the ROI of your ad spend. Contact us today to learn more about our services and ask how we can help.