WordPress Website Help for e-Commerce – How to Customize Your WordPress Site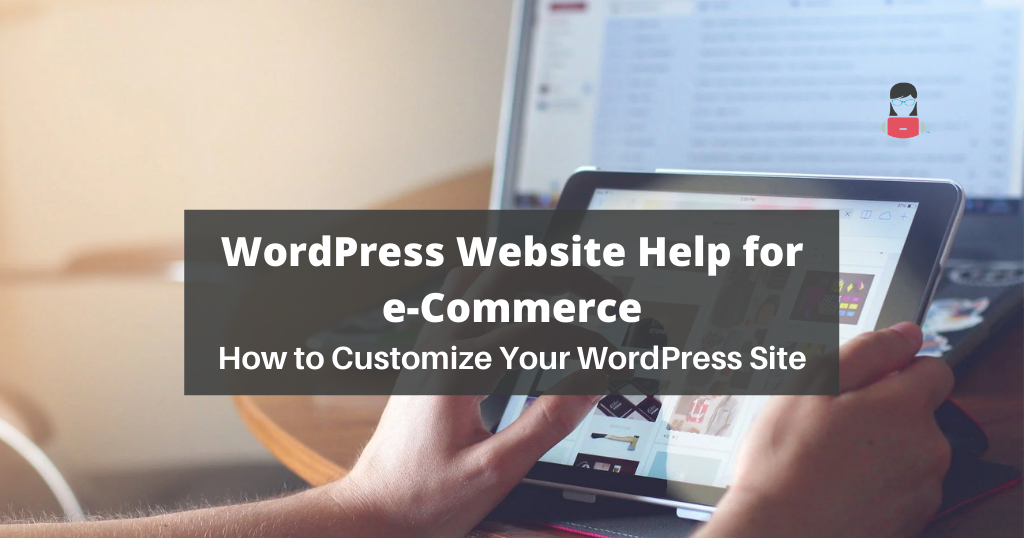 If you're planning to display your e-Commerce offerings on a WordPress site, you're in great company—WordPress powers a full 35% of the internet's 1.3 billion sites. It's easy to see why; WordPress is an inexpensive yet full-featured and scalable web platform for your business site, even with paid plugins, customizations, and additional design features. However, to make it work for e-Commerce, you'll need to implement some of each; for most, that requires WordPress website help.
Why Customize Your WordPress Site?
While WordPress is extremely robust and makes for a functional, relatively feature-rich website from the get-go, the vast majority of users choose to make customizations to their pages via the use of plugins to add features and expand site functionality. e-Commerce sites with WordPress are no different, as WordPress does not offer the most basic functions of an online store—at least not out of the box. To get them, you need to install an e-commerce plugin.
You'll need to make at least one customization to your WordPress site to begin transforming it into an e-Commerce store. Then, as you go about building an e-Commerce site that fits your brand, your aesthetic, and your needs, you'll make other decisions to perfect the theme, the images, and implement all the features you want to create an eye-catching site that truly inspires people to buy. Long story short, you cannot build an e-Commerce WordPress site that works without customization.
Steps to Customization
Whether you want to customize and reconfigure your existing WordPress site for e-Commerce, or are starting fresh, the steps are essentially the same. It's also important to keep in mind that while WordPress itself is free, specific plugins may not be. In addition, while these steps will transform any WordPress site into an e-commerce site with basic shopping capabilities (you can even retain your original site design)—true WordPress design customization, custom plugins, extensions, and more are best handled by a developer skilled in WordPress website help.
Assuming you've already chosen a domain name and hosting provider that fits your business—or that you have an existing WordPress business site—it's time to begin customizing your site for e-Commerce. Start with these steps:
Choose an e-Commerce Plugin
As mentioned, there are no native WordPress e-Commerce features, so you'll need to add a plugin to gain access to important e-Commerce functions, including product pages, a shopping cart, and online checkout. Depending on your offerings, one plugin may suit your needs better than another. For example, if you offer paid digital downloads, you might choose Easy Digital Downloads, while those offering physical product sales could benefit from WP eCommerce.
However, most users tend to select WooCommerce, a free, robust e-Commerce platform that includes:
Cart/checkout functionality
Secure payment
Product pages
Multiple shipping options
Tax calculation
Whichever e-Commerce plugin you choose, you'll need to find it within the WordPress plugin directory, install it, and activate it.
Configure Your e-Commerce Plugin
For clarity's sake, we'll assume you've chosen WooCommerce, but a similar process should apply to any e-Commerce plugin you select. After installation, you'll see a setup wizard, which will guide you through customizing your e-Commerce page's basic features. Here, you'll:
Enter your business details
Choose the payment methods you'll accept
Determine shipping rates and carriers
Connect to Jetpack to automate taxes
Choose Your Theme
The first real opportunity for customization comes during this step—you'll need an overarching theme that not only looks attractive and functions well but points buyers to essential features of your page. While you can choose one of WordPress's readymade themes for this purpose, many users find that a custom-designed theme that genuinely fits their brand identity is well worth the money. Overall, look for a theme that:
Utilizes dynamic colors to guide the eye
Makes use of white space to emphasize important page features
Is clear, concise, and scannable
Add Your Products
The process of adding products to your e-Commerce site varies, depending on the type of products you offer. Whatever your product type, however, you'll need to add a name, main image, additional images, descriptions of various lengths, price, and category. Optimizing your product pages (and your other landing pages) for great user experience is crucial to driving your sales, so customize with these tips in mind:
Use high-quality images to create the impression of a top-quality product and business.
Create a user-friendly, concise product description copy.
Avoid spelling, grammar, and capitalization errors, which degrade your perceived quality.
Keep product descriptions consistent across categories.
Add calls to action on each page.
Add a privacy policy.
Customize With Plugins and Coding
Once your products are uploaded, your e-Commerce site is ready for additional customization based on your needs. At the very least, you'll want to prove to your potential clients that your site is secure for online payments and add critical e-Commerce functions like reviews, star ratings, one-click checkout, and more. Here, too, is where you'll need to re-assess your theme and page appearance.
While there is a wealth of free and paid plugins and extensions available within WordPress itself, many businesses choose to develop plugins that are created specifically to help their e-Commerce pages function as they should. Custom-created design features and plugins ensure that your page is easy for your users to navigate, promotes purchases of your products, and reflects your brand identity.
How a Skilled Developer Can Help
Unless you're a skilled coder, you'll likely want to utilize the capabilities of an eCommerce developer. A skilled developer can provide the quality design expertise, custom plugin, and extension solutions, and optimized web copy insights most business owners tend to neglect when building a WordPress e-Commerce site. These custom solutions can help you ensure your e-Commerce site provides a seamless purchase experience and enhances your ability to grow your sales.
Whether you're searching for the ideal, customized WordPress e-Commerce theme or need a WordPress plugin to optimize your e-Commerce page, Sites By Sara can help. Our custom WordPress solutions and WordPress website help can build you a beautiful, functional e-Commerce site that is customized to your unique brand identity and needs. Call (385) 355-5351, or contact us online today to learn more about our custom WordPress solutions.