The Path to Online Domination: SEO Services Salt Lake City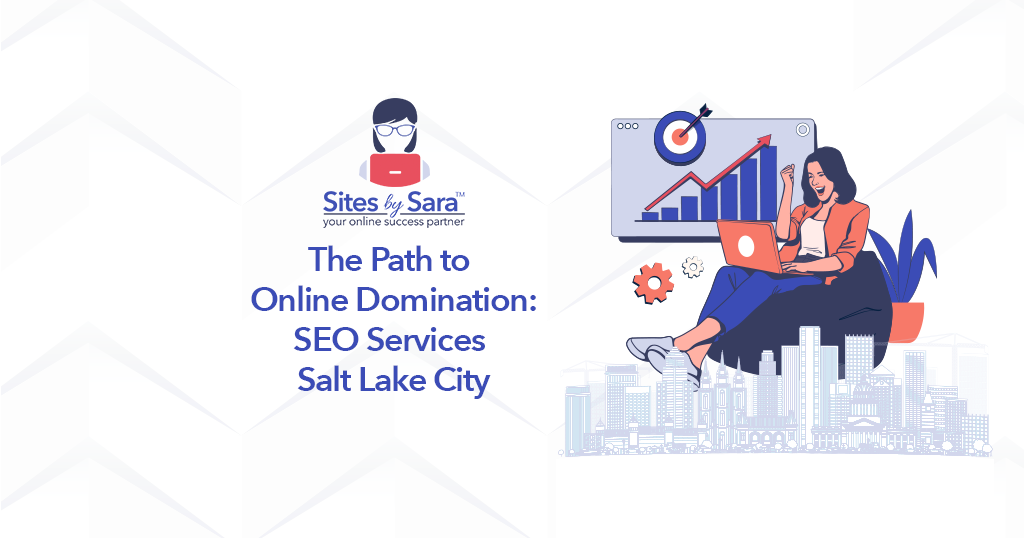 In today's digital age, having a strong online presence is crucial for the success of any business. And in a vibrant city like Salt Lake City, Utah, where competition is fierce, getting noticed online is not just an option; it's a necessity. This is where SEO services in Salt Lake City come into play. They can be the game-changer that propels your business to new heights.
The Role of SEO in Salt Lake City
Salt Lake City is not just known for its stunning landscapes and outdoor adventures; it's also a hub of economic activity. With a thriving business scene, the need to stand out in the online marketplace has never been more critical. This is where search engine optimization (SEO) takes center stage.
SEO services in Salt Lake City are designed to make your business more discoverable in online searches. When potential customers are looking for products or services that you offer, you want your website to be at the top of search engine results pages (SERPs). It's like having a prime storefront location in the digital world.
But SEO is not just about getting to the top; it's about staying there. It involves a strategic combination of keyword optimization, content creation, link building, and technical enhancements to your website. It's about making sure your website is not just seen but also loved by search engines like Google.
Why Choose Sites by Sara for SEO Services?
Now that you understand the importance of SEO in Salt Lake City, the next step is choosing the right partner to help you dominate online. This is where Sites by Sara comes in.
At Sites by Sara, we're not just another digital marketing agency. We're your partners in the journey to online dominance. Here's why you should choose us for your SEO services in Salt Lake City:
Expertise That Matters
Our team consists of seasoned experts in the field of SEO. We understand the unique challenges and opportunities that businesses in Salt Lake City face. With years of experience under our belt, we know what it takes to make your website not just rank but thrive in the competitive online landscape.
Tailored Strategies
We don't believe in one-size-fits-all solutions. Every business is unique, and so is our approach. We tailor our SEO strategies to align with your specific goals, industry, and target audience. Whether you're a local business looking to boost foot traffic or an e-commerce store aiming for national recognition, we've got you covered.
Transparent Communication
We believe in transparency and open communication. You'll never be left in the dark about the progress of your SEO campaign. We provide regular reports and updates so that you can see the tangible results of our efforts.
Measurable Results
One of the advantages of digital marketing is the ability to track and measure results. We use data-driven insights to refine our strategies continually. It's not just about getting to the top of the SERPs; it's about staying there and continuously improving.
Our Comprehensive SEO Approach
Our approach to SEO services in Salt Lake City is comprehensive and multifaceted. We leave no stone unturned in our quest to boost your online presence. Here's a glimpse into our strategy:
Keyword Research and Optimization
We start by identifying the most relevant keywords for your business. These are the terms your potential customers are searching for. We then optimize your website's content to rank for these keywords.
On-Page SEO
From meta tags to headings and content structure, we ensure that your website is finely tuned for search engines. This includes optimizing images, improving page load times, and making your site mobile-friendly.
Content Creation
Content is king in the digital world. Our team of expert writers creates high-quality, engaging content that not only attracts visitors but also keeps them coming back for more.
Link Building
Quality backlinks are essential for SEO success. We build authoritative, relevant links to your website to increase its authority and credibility in the eyes of search engines.
Local SEO
If you're a local business, we'll ensure that your website appears in local searches, making it easy for potential customers in Salt Lake City to find you.
Measurable Results
We understand that you want to see results, and we're committed to delivering them. Our approach to SEO services in Salt Lake City is rooted in data and analytics. We track your website's performance meticulously, providing you with regular reports that detail your progress.
SEO is not a quick fix; it's a long-term strategy. But the beauty of it is that it delivers sustainable results. Over time, as your website climbs the ranks of search engine results, you'll experience increased organic traffic, more leads, and higher conversion rates.
Sites by Sara is your trusted partner on this journey. With our expertise, tailored strategies, and commitment to measurable results, we'll help you not just reach the top of the SERPs but stay there.
Don't miss out on the opportunity to establish your online dominance. Contact Sites by Sara at (385) 355-5351 to get started on the path to online success.
FAQs (Frequently Asked Questions)
What is SEO, and why is it important for businesses in Salt Lake City?
SEO stands for Search Engine Optimization, and it involves strategies and techniques to improve a website's visibility on search engines like Google. It's crucial for businesses in Salt Lake City because it helps them attract more online visitors, which can lead to increased leads and revenue.
How long does it take to see results from SEO services in Salt Lake City?
The timeline for SEO results can vary depending on factors like competition and the current state of your website. Generally, it takes a few months to start seeing noticeable improvements, and it's an ongoing process for long-term success.
Can I do SEO for my business in Salt Lake City on my own?
While some basic SEO practices can be implemented by business owners, effective SEO requires a deep understanding of algorithms, keyword research, and technical aspects. Working with an experienced SEO agency like Sites by Sara can ensure more significant and lasting results.
What makes Sites by Sara's SEO services unique?
Sites by Sara offers tailored SEO strategies, transparent communication, and a commitment to measurable results. Our team has extensive experience in the Salt Lake City market, making us well-equipped to help businesses succeed online.
Is SEO a one-time effort, or does it require ongoing maintenance?
SEO is an ongoing effort. Search engines continually update their algorithms, and your competitors are also vying for top positions. Ongoing SEO maintenance is essential to stay ahead and maintain your online dominance.