WordPress Updates: What to Expect in the Latest Version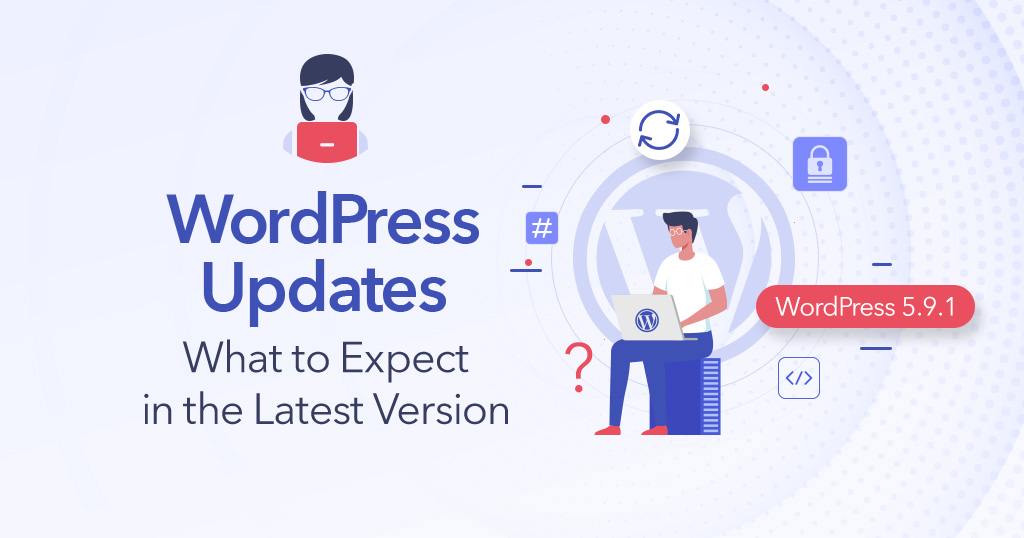 Like any other blogging or social media platform, WordPress is constantly evolving and undergoing updates. Those in charge of the site are doing what they can to improve the platform, such as giving users a better experience and improving functionality. New features are always being released, and users are then free to take advantage of these WordPress updates.

On January 25th, 2022, WordPress underwent another important update. This update is known as WordPress version 5.9. With this new version, users of the site have been given several enhancements and features that are intended to simplify full-site customization.

With the previous update, WordPress 5.8, full-site editing was already a feature that was in the works. To aid with page and post building, users were provided the Gutenberg block editor for the first time. Still, with version 5.9, it's becoming even easier to utilize WordPress's full site editing features. This includes the release of a block-based theme editor, as well as other new features and changes to the site's user experience.

If you're looking to take full advantage of the features that WordPress has to offer, it's in your best interest to stay on top of updates. So, here's a quick rundown of all the updates, bug fixes, and changes included in WordPress version 5.9.
What Are the Newest WordPress Features?


First and foremost, what are the main features that were included in the WordPress version 5.9 update? Generally speaking, these improvements to the site's user interface and design are intended to provide users with intrinsic web design capabilities. Specifically, these full site editing improvements (and more) are as follows:
Full site editing
Block and UX improvements
Brand-new default theme
New features for developers
Performance improvements
Full Site Editing

With the implementation of a block editor, full site editing has become far more functional on WordPress. Until recently, the Gutenberg-based page builder was only available when users were editing posts or pages on their blog. However, this feature is now usable no matter where you are on the website.

Thanks to these global theme style options, it's now possible for WordPress users to customize the full site, even without delving into stylesheet or theme files and making tweaks there.

The new block editor is basically a replacement for several parts of the "Appearance" menu: Menus, Customizer, and Widgets. Now, if you head over to your WordPress admin dashboard, a section simply labeled "Editor" can be found.

Once you're using this new Editor, you can use convenient WordPress blocks to edit or create templates or parts of the template. This gives users control over several theme elements, including the footer and header of the page, which are each provided blocks of their own.
Block and UX Improvements

The block editor is an increasingly popular way for WordPress users to manage or create content for their blogs. With the block editor becoming more accessible throughout the site, WordPress is attempting to make it a more user-friendly feature.

Not only has version 5.9 expanded the areas of the site where the block editor is available, but this update has also provided improvements like new blocks and a better user interface.

The block editor's interface improvement allows users to rearrange content simply by dragging and dropping various elements. WordPress users can access this feature through the list view.

Also, while on the list view, users will find that the items are collapsible. This is intended to make complicated block structures easier to manage. Users can even attach HTML anchors to blocks, allowing for faster navigation.

A focus mode was added to the block editor, available while modifying the header and footer of the page. When the focus mode is in use, the user is only able to see the section of the page that they're currently editing. This can create a better preview, on top of making the interface less cluttered.

Several new blocks have been added in WordPress version 5.9, including the navigation block and re-factored gallery block. Brand-new design tools have been added, as well: pagination, featured images, block spacing support, pattern insertion and creation, and duotone filters.
New Default Theme (Twenty Twenty-Two)

Changing the default theme is a tradition that WordPress engages in, each and every year. This year, the default theme has simply been named Twenty Twenty-Two.

For the first time, however, this default block theme has been created while accounting for the latest full site editing features. The objective of the default theme's developers was to make it as editable as possible through the new Editor menu, without much CSS use.

WordPress users can choose from a great variety of page templates when they're using the Twenty Twenty-Two theme.
New Features for Developers

Additionally, WordPress version 5.9 has introduced an assortment of features that can make the lives of developers a bit easier.

Creating a child theme has become even simpler, and a lock attribute has been implemented for blocks. If you're a developer of block themes, you may want to prevent users from removing or modifying particular blocks. If you'd like to lock a block, all you need to do is add in some easy code to your site.

For each block, developers can now add multiple stylesheets. If you're looking to load particular styles from other blocks, this is another developer-friendly feature that's been introduced with WordPress version 5.9.
WordPress Performance Improvements

WordPress version 5.9 has brought with it several performance improvements, including:
Lazy loading images (to optimize page speed)
Updates to the PHPUnit testing framework
Compatibility and support updates (including active Pinterest embeds)
Finally, the latest WordPress update has included a few important bug fixes. The following bugs have been repaired with this version of the site:

Dark mode bug (a bug that occurred in dark mode, causing gray text to appear on a white background, making the text difficult to read)

Shaking screen on the theme page (occurred when users hovered over a thumbnail) Disappeared reusable blocks
The Downside of WordPress Updates

Although the aforementioned updates are intended to make WordPress a more functional and user-friendly site, there are some ways for this system to backfire. Most notably, not all companies have the bandwidth necessary to stay on top of these major updates, leading to their WordPress blog becoming less effective. Whenever possible, it's wise for businesses and other WordPress users to stay aware of updates and ensure that they're using the latest version of the platform.

Sites by Sara Offers WordPress Maintenance Services

To work with the top WordPress Maintenance Agency in Utah, get in touch with Sites by Sara today. Our team is always up to date on U.S. WordPress Maintenance, allowing us to keep your site running on the latest version. To make sure you're taking full advantage of WordPress and its features, simply contact Sites by Sara.