6 Website Updates Your Site Desperately Needs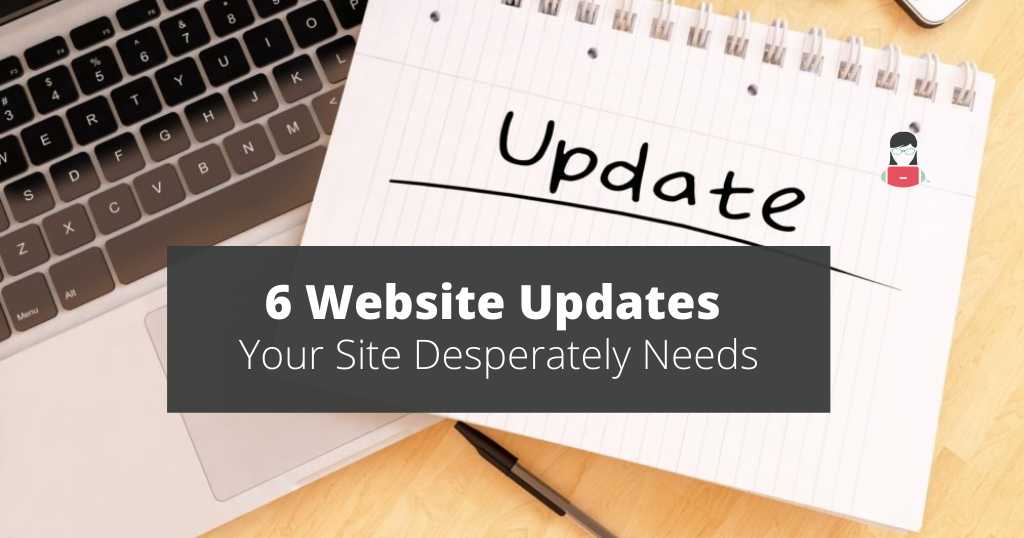 Your website is a crucial part of your business. It's a way for people to discover what you have to offer and connect with your brand in meaningful ways. Over time, your website can become the hub of all the content you produce and a place where dedicated customers know they can find relevant information and valuable experiences.
Sites by Sara wants to help your website realize its full potential. If you have been thinking of ways to upgrade and enhance your website, there are a few important updates your website absolutely needs. If you're ready for a website redesign, keep the following in mind as you determine which upgrades your site needs the most.
Stronger SEO
Search engine optimization (SEO) is a game in which the rules are constantly changing. Companies strive to make as much of an impact on search engine results as possible while search engines like Google and Bing consistently alter their algorithms to ensure a fair playing field. While keywords and written content are crucial for SEO success, your website's sitemap and structure could be hampering your SEO results, too.
Google and other search engines rank search results based on the quality of the experience the search engine user is likely to have. The website capable of providing the best experience will generally have the highest placement among the search results. A website overhaul takes some research and practice. Both elements include updating your website's page structure and ensuring the average user can reach any page on your site in three clicks or fewer. These are smart ways to ensure your sitemap isn't diminishing your SEO returns.
More Responsive Visual Design
People browse the web using many different devices today, and the majority of web traffic now takes place on mobile devices. The idea of responsive design hinges on the concept of providing the user with the best experience possible no matter what device they use to view a website. If you have a solid responsive design implemented into your website design, the average user can enjoy everything your site has to offer as much on a desktop computer as they can on a smartphone or tablet.
If you want to enhance your current website, take some time to evaluate how the website performs on different devices. Play with it and try to view your site from the average user's point of view. If you notice anything clunky or poorly formatted, a website rebuild with a stronger responsive design can help you account for these errors and create more streamlined experiences across multiple platforms.
Resonate with Current Trends
Has your company been in business for several years? Your website may appear to be keeping up, but how much does your site really resound with current trends? Relevancy is crucial when it comes to website performance. If your website appears outdated, even if it is full of updated and relevant info, it will inherently drive away potential traffic. A website revamp to align your website design with current trends can be a tremendous positive change for your site traffic.
As you plan your website overhaul, take some time to perform some competitive analysis. Check to see what design techniques your competitors are using to draw traffic to their websites. See what kind of experience the average user will have on multiple platforms. You can also explore keyword research tools to determine which keywords are gaining your competition the most traffic.
Develop Multimedia Experiences
Content is an essential part of any functional modern marketing strategy. It's essential to provide customers and potential customers with as much relevant information as possible and to keep them engaged with your brand through positive, memorable content experiences. Multimedia content development can provide your site with more traffic on a more consistent basis. Photo galleries, video content, and blog posts that incorporate multimedia are all potential upgrades you could implement, evolving your content strategy while also improving the experiences visitors have on your website.
It's vital to remember that if you decide to explore multimedia content development for your brand, it is essential to invest in high-quality photography and filmography for any visual content you produce. The quality of your content must reflect the quality of the experience the average customer can expect from your brand.
Create Better Landing Pages
If you are planning a website redesign, it's vital to view your current site from the perspective of the average user. Think about what they will want to see and learn as soon as they click on your website. The pages they land on, appropriately named your landing pages, are crucial for setting the tone for these initial points of contact. If a user reaches your landing pages from a search engine, a social media post, or a targeted ad, they should have a positive experience that encourages them to convert to your brand.
Measure your website's current bounce rate, or the rate at which users click to your website, then immediately click back and away to something else. If your bounce rate is quite high, this may indicate that your landing pages are not as strong as they should be, and they are failing to capture the organic traffic you expect to see flowing to your site.
Improve Backend Structure
Page loading time is a major facet of the bounce rate. Simply put, if your page takes too long to load, the user will just click away to somewhere else in the time it would take them to wait for a long loading time. Modern internet users are accustomed to high-speed connections, even over wireless networks. The back-end coding of your website may interfere with page load times, and a website overhaul could ultimately result in a more streamlined and more coherent page structure that vastly improves page loading times on your website.
A website redesign may seem like a major project, and it certainly is, but it can have a surprisingly positive influence on your business overall with a few straightforward changes. Sites by Sara can review your current website and help you determine the best possible changes you could make. With our help, you can improve performance, connect with more potential customers, and ultimately build a stronger online presence for your brand with a website rebuild. Call Sites by Sara today at (385) 355-5351 to learn more about our website redesign services.