Celebrating Success: Sites by Sara Ranked #1 Best Graphic Designers in Salt Lake City by Expertise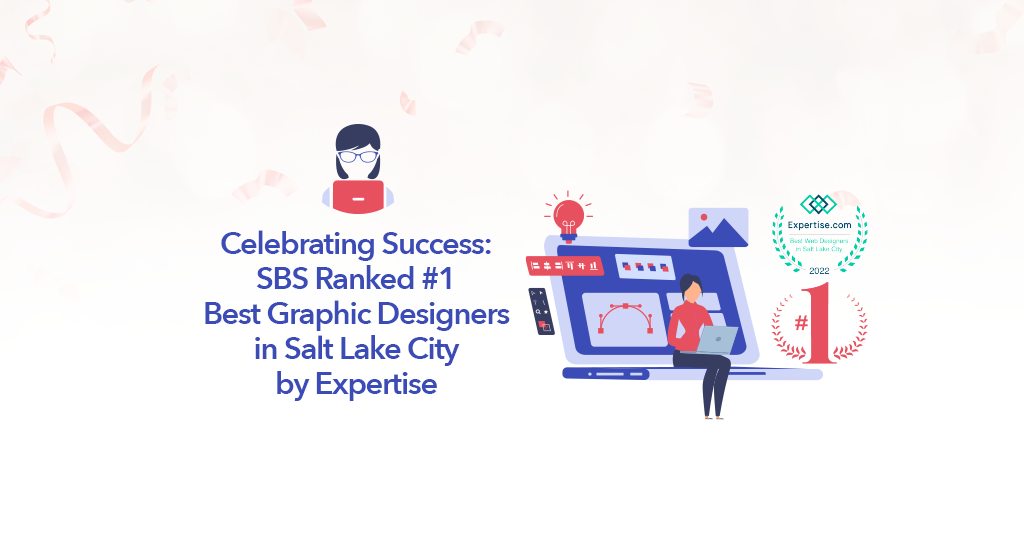 We are thrilled to announce that Sites by Sara has been recognized as the #1 Best Graphic Designers in Salt Lake City by Expertise, a prestigious organization that evaluates and acknowledges the top professionals in various industries. This esteemed ranking is a testament to our commitment to delivering exceptional graphic design services and providing outstanding customer experiences. We are honored to be recognized among the leading agencies in our community and would like to extend our gratitude to our valued clients for their trust and support.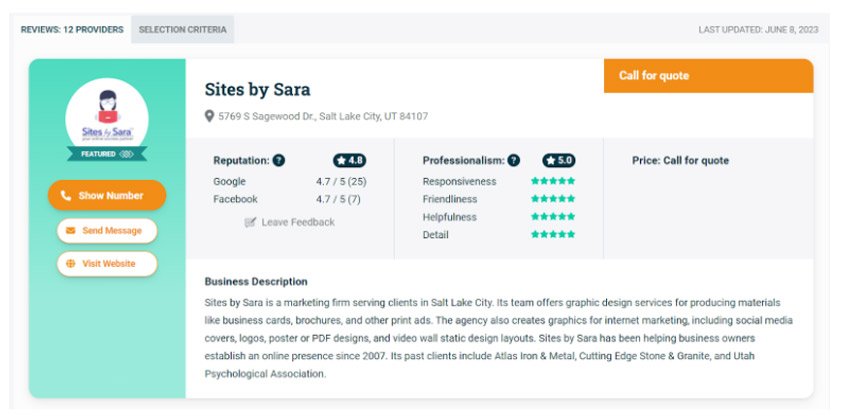 Expertise Recognition and Evaluation:
Expertise is a trusted platform that conducts in-depth research to identify and acknowledge top professionals across different fields, including graphic design. Their rigorous evaluation process involves assessing numerous factors such as reputation, credibility, experience, professionalism, and customer satisfaction. Expertise aims to guide individuals and businesses in making informed decisions when selecting service providers.
Graphic Design Excellence at Sites by Sara:
At Sites by Sara, we pride ourselves on our passion for creativity, attention to detail, and dedication to delivering high-quality graphic design solutions that surpass our clients' expectations. Our team of talented designers possesses extensive experience and expertise in crafting visually stunning designs that effectively communicate our clients' brand identities.
We believe that effective graphic design goes beyond aesthetics; it serves as a powerful tool for conveying messages, creating brand recognition, and enhancing user experiences. Whether it's designing captivating logos, eye-catching marketing materials, or visually engaging websites, our goal is to create designs that make a lasting impact and drive our clients' success.
Best Web Design Agency and SEO Agency Recognitions:
In addition to being ranked as the #1 Best Graphic Designers in Salt Lake City, Sites by Sara is also proud to have been featured as one of the Best Web Design Agencies and SEO Agencies by Expertise. These recognitions further validate our holistic approach to digital marketing, where we combine captivating design with strategic web development and search engine optimization techniques.
Our web design services are tailored to meet the unique needs and objectives of each client, ensuring that their online presence is not only visually appealing but also user-friendly and highly functional. By integrating the latest industry trends, responsive design principles, and intuitive navigation, we help businesses establish a strong online presence and create memorable experiences for their target audiences.
Furthermore, our SEO services empower our clients to improve their website's visibility in search engine results, drive organic traffic, and boost conversions. With a data-driven approach and a deep understanding of search engine algorithms, our SEO experts optimize websites to achieve higher rankings, increase online visibility, and attract relevant leads.
Being recognized as the #1 Best Graphic Designers in Salt Lake City, along with our additional accolades as a top Web Design Agency and SEO Agency, is a moment of pride and accomplishment for the Sites by Sara team. We remain committed to providing exceptional graphic design solutions, web development services, and SEO strategies that help our clients succeed in the digital landscape.
We express our heartfelt gratitude to Expertise for this esteemed recognition and, most importantly, to our clients who have entrusted us with their design and marketing needs. We look forward to continuing our journey of excellence, creativity, and innovation, bringing cutting-edge design solutions to businesses in Salt Lake City and beyond.