Google Updates to Consider to Maximize Your SEO in 2022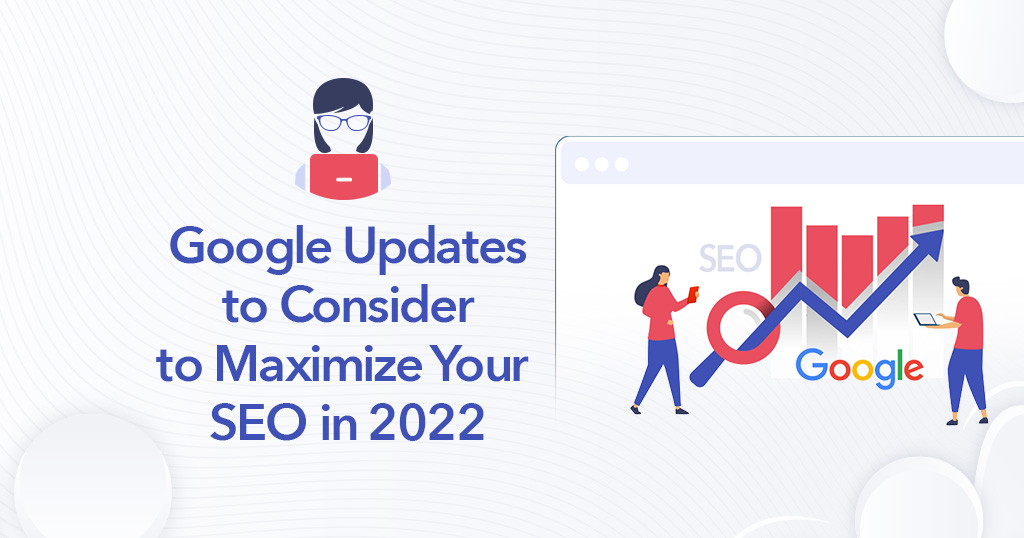 Standing out in the digital marketing world relies heavily on SEO optimization. Your search engine result ranking can greatly impact the traffic that your website experiences every day. Google continues to be one of the most used and reliable search engines by people around the globe. Google relies on algorithms to create the best user experience possible. These algorithms are ever-evolving, and each year comes with a variety of different updates. Google SEO can shift when these updates take place, so it is important to know what these updates are and what changes you need to make to ensure you keep up with the best practices and improve your rankings. In 2022, several significant updates impact your SEO.
Mobile-First Indexing Update
With the ever-evolving capabilities of our cell phones, more people are skipping the desktop computer and using their mobile phones and tablets to complete the bulk of their online searching and interactions. In 2015, Google started to place a larger importance on mobile-friendliness for websites. In July of 2019, Google updated so that mobile-first indexing was a default setting for new websites.
Mobile-first indexing refers to the way that Google ranks your website pages based on the mobile version of that content. This means that users should be able to explore your site as easily on their phones as they could on a desktop computer. As of June 2021, this indexing update will be the default setting for all websites, both old and new. It is important to optimize your site to make sure it is responsive. An SEO Agency in Salt Lake City, such as Sites by Sara, can help you better structure your web pages for mobile-friendliness. This includes using lazy loading and image compression as well as performing manual testing of popups and page functioning on a mobile phone to ensure ease of use.
Passage Ranking Update
The new algorithm updates are geared towards creating results for users that are useful and complete. The goal of these updates is to provide quick, accurate answers that allow the user to find the results they need fast. Google uses AI to index web pages as a whole, as well as individual passages from those pages. This puts an added importance on providing relevant content throughout your site, especially in blogs.
The AI will quickly crawl over paragraphs and sentences, looking for keywords and content that better answers questions. This allows specific passages from your site to show up as a featured snippet. So instead of a person Googling "How can I clear a clogged drain?" and getting a list of businesses that could answer the question, they will receive an actual snippet, such as an excerpt from your blog page that explains how to clear a clog. Instead of having to click in multiple areas to find the answer, it is there with the first click of a button. You can improve your passage ranking by using target long-tail keywords and providing detailed, high-quality content.
There is nothing worse than being bombarded with spam when trying to search for a product or service. One of Google's updates this year was to continue to combat the presence of spam that can lower the quality of search results. It is important to make sure that your website, as well as your social media accounts, are protected from spam. This spam often takes in areas that involve user interaction, such as the comments section, forums, or review areas. To help protect yourself, you should update your website's SSL certificate as well as use the Google Search Console to check for any security issues you could potentially experience. Regular cleanups of suspected spam can help to keep you high in search engine results. Different SEO Services can help keep your site's optimization where it needs to be while ensuring your security as well.
Product Review Update
Link Spam Update
This update is great for businesses that want consumers to get to better understand their products. The goal of this update was to provide reviews that don't just summarize products but provide in-depth information and quality analysis as well as relevant content. When using different SEO services, you've likely already taken steps to provide more detailed content when it comes to your products. These services often include finding ways to express your expert knowledge, such as online videos or blogs, sharing unique content, and securing quantitative measurements to ensure your product is standing out from your competitors.
Page Experience Update
On-Page optimization is crucial in developing a quality digital marking plan. Metrics that help to maximize page experiences have been around for years, but this update creates a greater impact on your ranking due to certain page experience metrics. This update is called Core Web Vitals, and it has changed the way it prioritizes certain factors that impact a person's experience when visiting your webpage. This update further prioritizes:
First Input Delay. This element measures how quickly a website responds to the user's first action of the page.
Largest Contentful Paint. This factor calculates how fast your main content loads.
Cumulative Layout Shifts. This explores how stable your layout is.
These different elements all tie into how well your webpage performs. Customers expect information in seconds. Long load times, freezing, and other complications can quickly cause a customer to leave your page to explore a different one with no hassle.
MUM Update
Multitask Unified Model (MUM) is a natural language model used by Google. The goal of this update is to use information from different sources to present a comprehensive answer to a complex question. If someone wanted to compare activities in two different areas, they could simply Google, "What are different things to do in this place compared to this one," and get a compiled result that answers both questions instead of forcing the user to make multiple searches. This update doesn't necessarily impact your rankings, but it is still useful to keep up with your keyword research and use relevant content to target new customers.
Update Your SEO Plan Today
It is important to keep informed of the different Google updates that are released throughout the year. These updates can impact your SEO and could negatively impact your results if you fail to make necessary changes. In 2022, there is continued stress on the importance of mobile-friendliness and providing up-to-date, relevant content for your consumers. Sites by Sara is an SEO Salt Lake City company that can provide you with the tools you need to stay current through all the different algorithm updates. Contact us to learn more today.