Is It Time for a Brand Redesign? Ten Ways to Tell, Straight From Your Salt Lake City Digital Marketing Agency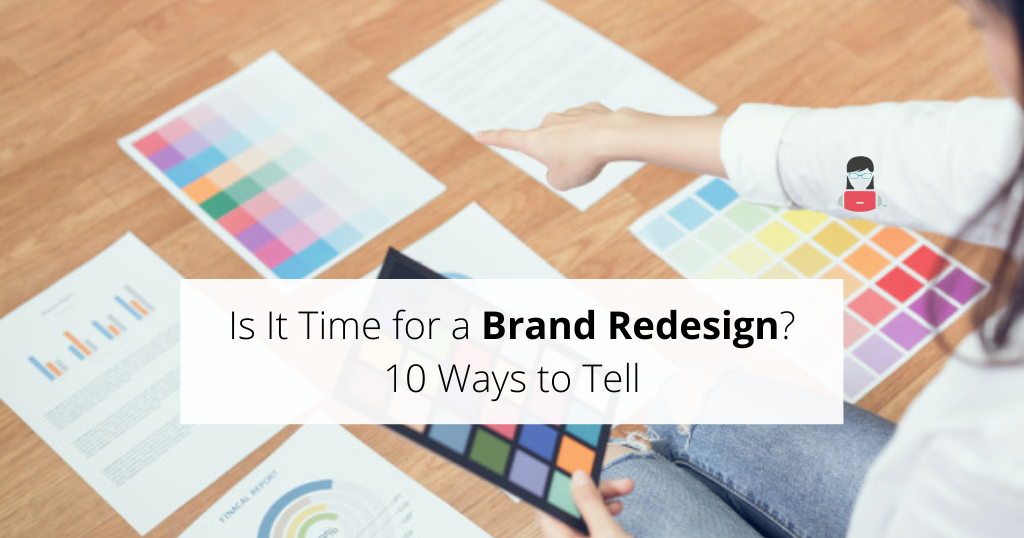 The good news? Your business is thriving. You have an established client base, loyal return customers, and the revenue to show for it. You've worked hard to get here. You developed a brand identity and a brand story to go along with it, and painstakingly designed every last logo, graphic, business card, and website feature along the way.
The not-as-good news? Take it from a Salt Lake City digital marketing agency – you may need a brand redesign.
Why Is Branding So Important?
Maybe you've felt for some time that your business has advanced past the branding efforts you put in back in your startup days. Alternatively, perhaps you've noticed a slowdown or drop in business that you can't explain any other way. (Or, maybe this very discussion is your first clue that a change may be in order.)
Regardless of what's brought you here, you're reading this article because you know how important your branding is to your business. Your branding:
Sets you apart from other businesses in your niche
Lets your current and potential clients know what your business is all about
Helps you stay relevant, engaging to your users
How Can You Tell It's Time for Rebranding?
The experts at our Salt Lake City digital marketing agency have rounded up the top signs it's time to consider a brand redesign sooner rather than later:
You feel a disconnect between your branding and your brand identity. This key indicator can be difficult to nail down, but it's potentially the most crucial reason to consider rebranding. Your branding should reflect who you are and what your business stands for. If it doesn't, you're overdue for a brand redesign.
You haven't addressed your branding for the last 10 years. While a legacy brand doesn't necessarily need to change just because of its age, keep in mind that even the most iconic brands have made minor shifts over the years to stay relevant. Whether that involves minor upgrades or a complete brand overhaul is up to you. At the very least, if you're hesitant to hand out business cards or list your web address, an update is likely in order.
You feel like you've outgrown your branding. Whether you started your business two years ago or two decades ago, you've undoubtedly grown since then. If you've made significant gains and are feeling the pressure to compete with a higher caliber of businesses, consider a rebrand. Similarly, if your original brand feels a little too "mom and pop" for your competition, consider a change.
You've made a significant move. If you've moved outside your original geographical area – or expanded well beyond your original borders – it could be time for a rebrand. This is especially true for businesses with a place name in the brand; if your Las Vegas Life Coaching brand has made a move to the Salt Lake City area, a rebrand is ideal. Similarly, if you've undergone a merger or acquisition, you'll likely need to address your branding.
Your branding fails to unify your business ideals. Do you have trouble explaining your business model to outsiders? Do your brand messaging and design fail to align across all channels? If your messaging seems disconnected or makes your business appear as a jack of all trades with no real strengths or focus, a brand redesign is likely in order.
Your brand blends in with your competitors' brands. Your branding and its elements – your logo, in particular – should produce a snapshot of who you are as a business and communicate your unique take on your niche. If you're blending in with the competition with nothing to differentiate you, you have a problem. Focusing on a rebrand to regain visibility is a positive move forward.
Your website conversion rates are faltering. Lower than expected conversion rates are a key sign your website isn't functioning to guide your users through the sales funnel. While this can be an indicator that one or two features aren't working as they should, taking the time to optimize and refresh your website could be even more beneficial. Ensure the most important features – including product pages, CTAs, and brand messaging – align and function as they should.
Your industry has left you behind. It can be challenging to pinpoint the reason behind a drop in engagement or leads. Even if your branding doesn't appear outdated on its own, look at your brand next to others in your industry. If the industry has embraced change or moved toward modernization but you haven't, chances are your original messaging is no longer speaking to your target audience.
You want to target a new demographic. It can seem like every day there's a new "key group" of consumers just waiting to distribute their wealth to the lucky companies that can attract them. However, the reality is, demographic shifts are the way some of the oldest businesses in the country have managed to stay relevant. You may want to rebrand to connect with your new audience.
Your customers are asking for a refresh. If the website isn't user friendly, a key function of your app isn't working as it should, or your users are beginning to feel a disconnect between your branding and your products, your customers are the most crucial source of rebranding feedback. Endeavor to seek their feedback whenever possible, and be sure you're listening.
Time for a Rebrand?
Getting your branding just right is a tricky business – and it doesn't get any less complicated the second time around. However, when you consider that your branding should reflect every aspect of your business to your ideal client base and is, quite simply, your most valuable asset, it's clear your investment is worthwhile.
To help you make all your critical rebranding decisions, seek guidance from a top Salt Lake City digital marketing agency. Whether you're looking to modernize or want to begin a complete overhaul of your branding, Sites By Sara, (one of the top SEO companies from Salt Lake City) has the digital marketing, web design, and graphic design expertise to make it happen according to your specifications. Contact us online or call (385) 355-5351 today.