Social Media for Small Business: Choosing the Platform That's Right for You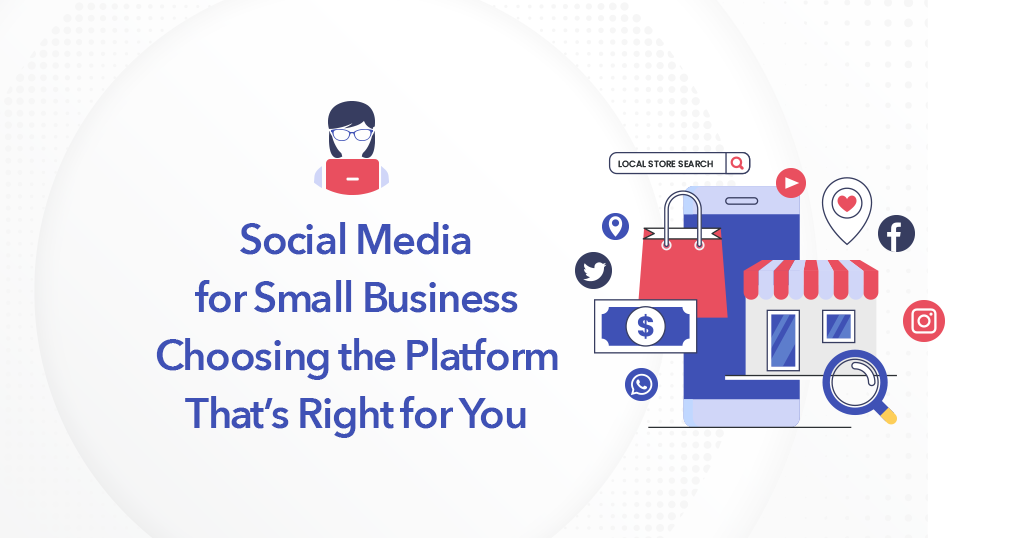 There are so many aspects to running a small business. From employees to office space to payroll, there is always something to consider when you are running a company. Many small business owners rely on a network of professionals and support staff to get everything accomplished.

One of the most important items on a small business owner's to-do list is digital marketing. With the world being constantly connected online, digital marketing is the number one way to get your business recognized and acknowledged for what you do. If you aren't investing in digital marketing, you need to start.

Perhaps the best tool for digital marketing as a small business is social media. With several platforms and apps to choose from, you can generate attention and online traffic through free and low cost social media accounts. However, it is important to use social media correctly. While it may be easy to set up your own personal account, running one for your business is much more strategic. If you don't choose the right platforms, you can easily lose your foothold and your page can become obsolete.

Fortunately, we have tips and tricks for choosing the right social media for your small business. With a little forethought and planning, you can create a business account that is effective, attractive, and in line with your business model.

Why Can't I Choose All of the Platforms?
Before we talk about how to select the proper social media channels for your business, it's important to understand why you shouldn't just use all of them. Though it may be tempting to sign up for everything, in reality you usually end up oversaturating your brand if you sign up for everything. Social media requires cohesion with your company's brand and voice, and it is very difficult to unify that voice over several diverse social media platforms. You don't post the same way on LinkedIn as you do on Instagram, for example, which can lead to a more blurred brand image.

Many times, it's also simply not necessary for you to have social media accounts on every platform. Though a law firm may have success finding clients on Facebook, it would be weird and inappropriate for them to use TikTok. When you get down to it, there are usually only a few social media channels that really make sense for your business anyway. Trying to fit in on other platforms might make things difficult.

At the beginning of the social media process, you should create clear goals and objectives for your social media platforms. Ask yourself what you want your platforms to do for your business and identify ways you can make that happen. For example, if you want more business to business connections, platforms like LinkedIn might be most appropriate. If you're hoping to increase your online marketplace, Instagram has features that can help. Put a significant amount of time into deciding what you'd like your social media to do for you, as it will guide your next steps. Be sure to identify your desired audience when you set goals. Selecting a demographic that you wish to attract can help you to choose platforms accordingly.

Once you have your goals, look at what your competition is doing for their social media platforms. Identify the things that they are doing well but, more importantly, identify areas that don't seem to be working. For small businesses especially, it can be difficult to predict how audiences will react online. Your competition can give you a good sense of what might happen on certain platforms if you choose to use them. You can also gain an edge in your market by focusing on areas where your competition falls short or doesn't engage.

It is easy to make mistakes when it comes to selecting social media platforms. Many people assume that apps like TikTok are only effective at attracting younger people, when in reality people of all ages have success on the app when they use it correctly. Similarly, Facebook has a significant number of users under the age of 24, which bucks the stereotype that only baby boomers use the platform. When you have your goals set, research which platforms for your specific demographic. Don't make any assumptions or jump to conclusions. You may be surprised at the mix of ages, races, and genders of people who use various social media platforms.
Once you have your objectives and desired audience ready, it's time to select the platforms that your small business will use on social media. It's best to stick to two or three to preserve cohesion and use the apps most effectively. Each platform has strengths, and it is important to know what they are if you want to make informed decisions about your company's social media marketing.

Though it's one of the oldest social media platforms, it's still one of the most widely used. 6 billion people are on Facebook, making it a fantastic place for businesses to advertise. They offer both free and paid options depending on your budget and objectives. You can personalize your usage and ads, and connect with users via videos and live streams.

This app is all about the visuals, so if your company has unique products or services, this is the place to be. The objective for businesses using Instagram is to create a visually pleasing profile that represents your brand quickly and effectively. With the addition of Instagram stories and reels, it's easy to make catchy videos and posts that engage with audiences on the app. What's more, you can even set up a shop directly through the Instagram app, so users can buy products or sign up for services right through your posts. If you want a visual medium to display your business, Instagram is the place to be.

Though TikTok is newer than Facebook and Instagram, it has taken the world by storm. With the advanced video algorithm, it is relatively easy to have a video go viral if you play your cards right. Many small businesses have gained a diehard following from producing TikTok videos. However, TikTok and Instagram reels are similar, so you may not want to do both.

If your business is looking to attract professionals in a certain field or other business connections, LinkedIn is the place to be. Though you won't want to post as frequently as you would on other apps, this platform is great for professional growth. Unlike other apps, LinkedIn focuses on quality rather than quantity, so you'll have to be sure that your content is always top-notch and professional if you want to have success on the Platform.

Not only is Twitter a great place for a good laugh or some news snippets, it's also a great place for customers to connect with the businesses that they love. Many users turn to Twitter when they have a thought or complaint, rather than using sites like Yelp. This is because they are more likely to get engagement on Twitter than they are on other sites. If you want to bolster your customer service and connect directly with clients, Twitter is a great platform. You can communicate both publicly and privately with your clients, all while producing original content of your own.

YouTube is one of the largest search engines in the world, so don't underestimate its power. Though it takes a more experienced eye to create quality video content, it can be incredibly effective if your business is right. If your industry offers information or support for customers, YouTube is a great place to make video tutorials, post reviews of products, and more. While users don't necessarily want to watch a long video, they often would prefer a video over a large text box or complicated instructions. Plus, you can embed your YouTube content into your website for fast access.
Though this all can seem very overwhelming, it's important to know that there is not necessarily a right answer when it comes to selecting social media platforms for your small business. The most important part of any social media marketing campaign is keeping your brand cohesive across all platforms. Choose two platforms that seem to fit your objective and begin there. You can always add or subtract depending on your success and level of engagement. The sites themselves do have advantages and disadvantages, but there are many different combinations that could work for your Company.

You don't have to navigate social media marketing alone. Our expert team at Sites by Sara is here to help you set social media marketing goals and execute them flawlessly. Though the concept of social media marketing may be new and intimidating to you, we are seasoned experts and we know what we're doing. We can walk you through your goals and help you to select platforms that will best support your business's future.

Don't wait to start using the power of social media. Contact Sites by Sara today.