How Graphic Design and SEO Work Together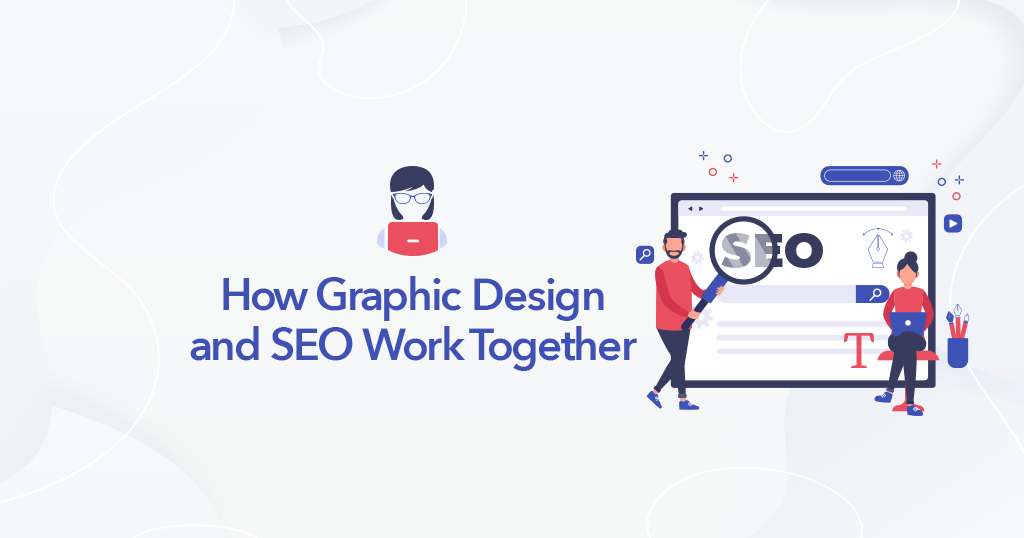 In today's world of digital marketing, many aspects of a website's design and function are interconnected. If one part of your website isn't working, it likely affects many other areas of your digital marketing strategy. This can bring down your rankings and undo careful marketing strategies that you've taken months or years to hone. Conversely, this also means that if one part of your strategy works very well, it has the power to bolster other areas of your digital marketing efforts.
Graphic design and SEO are two aspects of digital marketing that are closely linked.These two aspects of your website change in tandem, meaning that if you are using graphic design correctly you can improve your SEO and SERP ranking. In order to properly use graphic design to your advantage in the SEO world, you must understand how the two connect. Fortunately, there are many measurable ways that graphic design and SEO work together within your digital marketing scheme.
What Is SEO?
SEO, or Search Engine Optimization, is a central objective for most websites. This concept consists of a variety of tactics, all designed to help your website appear higher on search engine results pages (SERPs). Ideally, you want your website to be within the first few results for search engine queries, as most users don't bother to browse websites that appear further down the page.
SEO consists of a lot of tactics, such as keyword research and implementation, targeted meta titles and descriptions, and link building. However, as search engines become more advanced, there are more specific criteria that affect a page's ranking. With the release of Google's Core Web Vitals early last year, websites have had to adjust the tactics that they use to rank highly on SERPs.
Google's Core Web Vitals
Google's new ranking system, referred to as Core Web Vitals, is a system that ranks websites not only on their pertinent information and popularity, but also on their user friendliness. User experience (UX) has become key. If a website is not easy to use and glitch-free, it won't rank very well.

For this ranking system, Google uses three main criteria. They are:
● Largest Contentful Paint:- This is the length of time it takes for your largest piece of media to fully load. The higher the length of time is, the lower your ranking will be.
● First Input Delay:- This is the length of time between when a user lands on your site and when it's usable for them. The longer the period of time, the lower the ranking.
● Cumulative Layout Shift:- This measures the amount that the page shifts or moves until it lands in its correct and final position.

update your graphic These factors rely heavily on media and visuals. This is where graphic design comes in, and why it can be so impactful to your website's SEO to update your graphic design.SEO and Web Design
update your graphicAny graphic designer knows that visuals are what keep users on your site. If your website looks nice and is designed for a pleasant user experience, a user is more likely to browse and use the site as it was intended. If your site is not well designed and visually appealing, users are more likely to go back to the results page and find a new website with similar information and better graphics.

If you haven't had a graphic designer revamp or update your website within the past year, you are overdue for graphic design services. If you want to remain viable in online markets and results pages, you must have fresh and appealing visuals as part of your SEO efforts. Graphic designers can help.

Graphic Load Time
As the Core Web Vitals outline, it's extremely important for your graphics and visuals to load quickly and properly when a user visits your page. If they don't, the search engine will demote your page in the results rankings, which can harm your overall SEO. This is another place where graphic design is incredibly important. You can work with your graphic designer to create attractive images that are not too large or bulky to load quickly. If there are existing images or graphics that slow down your load time, a designer can adjust or create new ones that better fit your overall SEO goals.

File Descriptions and Tags
With the changing world of SEO, sometimes companies forget to keep up with the basics like keywords, tagging, and descriptions. By using proper keywords and keyword placement, you still create a great impact on your site's ranking.
Graphic designers may create images for your website, but you should still be using keywords in tandem with their creations. Use key words and phrases in the image description, the file name, the captions, and text description of all images. Though users may never seek out this content, search engines still use it to determine whether a site has the necessary information or not. Tagging your graphic designer's images only increases their power.

Mobile Site
Your site's mobile version is arguably just as important as the desktop one. With the prevalence of smartphones, many people search for goods and services from their phone rather than their desktop or laptop. This means that a large portion of users are seeing the mobile version, and will react accordingly if it isn't optimized and pleasing to Use.

Graphic designers can and should create a mobile version of your website to bolster traffic. If they create the mobile site to be easy to use, your mobile guests will remain on your site for longer and increase your ranking in the eyes of the search engine. If the mobile site is difficult or not optimized, mobile users are likely to leave and find somewhere else to get their information. Since mobile users are a large percentage of overall users, it's important to cater to them as well. Your graphic designer has the power to make this happen.

Tips for Improving SEO with Graphic Design:-

It's clear that graphic design and SEO go hand in hand in most web design strategies. However, it can be daunting to make big changes to your digital marketing strategy without some clear objectives to get started. Fortunately, there are simple ways to use graphic design to improve SEO.

1. Hire a Graphic Designer
This may be obvious, but it's important enough to warrant reiteration. With the current state of digital marketing, you simply cannot have effective SEO without an experienced graphic designer on your team. Because user experience has become central to website ranking, you must rely on a professional to help create your website.

2. Compress Your Images
Large images are one of the most significant and unnecessary ways that your load time is lengthened. It is easy for graphic designers to compress images without sacrificing a significant amount of quality. This is a great place to start when using graphic design to bolster SEO.

3. Name Your Image Files
Image file names should be optimized with SEO keywords and phrases. This is an underused area of most websites, and it has the power to pull in more viewers and increase search results. If you aren't using your image files to improve SEO, you're cutting off a key connection between graphic design and SEO.

4. Follow the Three Click Rule
Have your graphic designer and UX specialist ensure that users can find the information they need in three clicks or less. If the site is more complicated than that, you will lose users to sites that are easier and more streamlined.

5. Optimize Your URL
For all parts of your website, optimize the URL to be easy to remember but also descriptive. Search engines look at your URL as well as your keywords, traffic, bounce rate, etc. Make sure to optimize each URL that your designer creates for you, as most websites have several pages.

6. Update Your Mobile Site
Your graphic designer should update your mobile site as soon as possible. Until the mobile version looks as polished and usable as the desktop one, you are losing viewers and increasing your bounce rate. Make sure your mobile site is as optimized and easy to use as your regular website in order to capitalize on the majority of searchers who use their phones.

7. Invest in Quality Content
Your graphic designer can make your site look amazing, but you need to make sure that the content matches the visuals. If your content is rife with errors, outdated content, or hard to scan text boxes, users will simply find a different website that makes it easy to get information. Graphic design and content go hand in hand, so make sure you are investing in both.

Trust Sites by Sara
Finding a graphic designer with proper SEO training isn't as easy as you think. Fortunately, our experts at Sites by Sara offer both SEO and graphic design services for websites of all sizes. Our graphic designers can help you to create a website that works for your business and creates growth for your company. Contact Sites by Sara online today for more information.