The Power of Organic Traffic: How SEO Generates Sustainable Leads for Small Businesses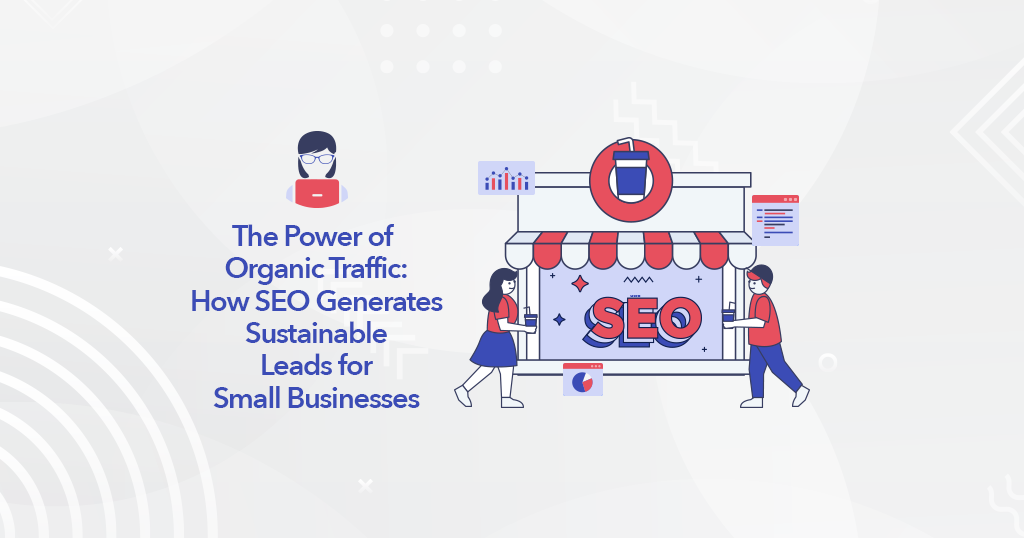 Organic traffic serves as the lifeblood of small businesses, providing a sustainable and cost-effective way to attract qualified leads and build brand visibility. At the heart of organic traffic lies the power of search engine optimization (SEO). By implementing effective SEO strategies, small businesses can generate sustainable leads that fuel their growth and success in the digital landscape.
The Significance of Organic Traffic for Small Businesses
Organic traffic holds immense significance for small businesses due to its long-term value and cost-effectiveness. Unlike paid advertising, which requires ongoing investment, organic traffic is driven by the relevance and quality of a website's content. By consistently attracting organic traffic, small businesses can establish their online presence, build brand credibility, and increase their chances of converting leads into customers.
Furthermore, organic traffic allows small businesses to target qualified leads actively searching for their products or services. These individuals are more likely to engage with the business, leading to higher conversion rates and sustainable growth.
Understanding SEO and Its Impact on Organic Traffic
SEO is the practice of optimizing a website to improve its visibility and ranking in search engine results pages (SERPs). When users conduct searches related to a small business's offerings, a strong SEO strategy increases the chances of the business appearing prominently in the search results. This visibility translates into increased organic traffic.
The success of SEO lies in its ability to align a website's content, structure, and technical aspects with search engine algorithms' requirements. By optimizing various elements, small businesses can improve their chances of ranking higher in SERPs, thereby attracting more organic traffic.
The Key Components of Effective SEO
Effective SEO encompasses several key components that work together to generate sustainable leads for small businesses.
On-page optimization focuses on optimizing the content and structure of individual web pages. This includes thorough keyword research to identify relevant terms and phrases that potential customers are using in their searches. By strategically incorporating these keywords into page titles, meta descriptions, headings, and content, small businesses can enhance their visibility and relevance in search results.
Off-page optimization involves activities that take place outside of the website but still contribute to its organic ranking. One crucial aspect of off-page optimization is building high-quality backlinks from reputable websites. These backlinks act as endorsements, indicating to search engines that the small business's website is trustworthy and relevant. Additionally, leveraging content marketing strategies such as guest blogging and influencer collaborations can amplify brand exposure and generate valuable backlinks.
Technical optimization focuses on the technical aspects of a website that impact its visibility and user experience. This includes optimizing website structure and navigation to ensure search engines can crawl and index the site easily. It also involves optimizing website speed and performance, as well as implementing structured data markup, which provides search engines with additional context about the content on the website.
Keyword Research: The Foundation of SEO
Keyword research forms the foundation of an effective SEO strategy. It involves identifying the keywords and phrases that potential customers use when searching for products or services related to the small business. Thorough keyword research allows businesses to understand their target audience better and create content that aligns with their search intent.
By using keyword research tools and analyzing search trends, small businesses can identify high-value keywords with significant search volumes and moderate competition. Long-tail keywords, which are longer and more specific phrases, are particularly valuable as they often indicate high purchase intent and attract highly targeted organic traffic.
On-Page Optimization: Enhancing Visibility and Relevance
On-page optimization is crucial for maximizing organic traffic. It involves optimizing various elements on individual web pages to enhance their visibility and relevance in search results.
Crafting compelling page titles and meta descriptions is essential, as these elements serve as the first point of contact between the business and the searcher. Well-optimized titles and meta descriptions should incorporate relevant keywords while enticing users to click through to the website.
Optimizing heading tags (H1, H2, etc.) and content structure improves readability and signals the relevance of the content to search engines. By strategically placing keywords within headings and subheadings, small businesses can communicate the focus of their content to search engines and improve their chances of ranking higher in search results.
In addition to headings, optimizing the overall content is crucial. Creating high-quality, engaging content that addresses the needs and interests of the target audience is key. Small businesses should strive to provide valuable information, answer common questions, and offer unique insights. By consistently delivering valuable content, businesses can establish themselves as industry authorities and attract a loyal following.
Internal linking is another important aspect of on-page optimization. By strategically linking relevant pages and articles within their website, small businesses can improve navigation and help search engines understand the website's structure. This also encourages users to explore more content, increasing their time on site and reducing bounce rates, which are positive signals for search engines.
Off-Page Optimization: Building Authority and Backlinks
Off-page optimization plays a vital role in establishing a small business's authority and generating sustainable organic traffic. One of the key off-page optimization strategies is building high-quality backlinks.
Backlinks are links from external websites that point back to the small business's website. Search engines consider backlinks as indicators of trust and relevance. The more high-quality backlinks a website has, the more likely it is to rank higher in search results.
To build backlinks, small businesses can engage in content partnerships and guest blogging. Collaborating with other businesses or industry influencers to create valuable content can lead to natural backlink opportunities. Additionally, actively promoting content through social media and influencer marketing can amplify its reach and attract more backlinks.
Participating in online directories and local citations is another effective strategy, particularly for businesses targeting local audiences. Listing the business in relevant directories and ensuring consistent and accurate information across platforms can improve local visibility and attract local organic traffic.
Technical Optimization: Ensuring a Strong Foundation
Technical optimization focuses on the technical aspects of a website that impact its visibility, performance, and user experience. A technically optimized website not only improves organic rankings but also enhances user satisfaction.
Optimizing website structure and navigation involves organizing content logically and ensuring that search engines can easily crawl and index the website. A clear and intuitive website structure enables both users and search engines to find relevant information efficiently.
Mobile optimization is crucial, given the increasing use of mobile devices for online searches. Small businesses should ensure their websites are mobile-friendly, with responsive design and fast-loading pages. Mobile responsiveness not only improves user experience but is also a ranking factor for search engines.
Implementing structured data markup, such as schema markup, provides additional information about the content on the website. This allows search engines to better understand the context of the content and display rich snippets in search results, enhancing visibility and attracting more organic traffic.
Local SEO Strategies: Targeting Geographically Relevant Traffic
For small businesses with a local presence, implementing local SEO strategies is essential for attracting geographically relevant organic traffic.
Local SEO involves optimizing a website and online presence to rank higher in local search results. This includes claiming and optimizing a Google My Business listing, which provides valuable information to potential customers and improves visibility in local searches.
Small businesses should also focus on obtaining positive reviews from satisfied customers. Reviews not only influence potential customers' decision-making but also impact local search rankings. Encouraging customers to leave reviews and promptly responding to them demonstrates the business's commitment to customer satisfaction.
Creating location-specific content is another effective strategy for targeting local organic traffic. By developing content that addresses local interests, events, or concerns, small businesses can establish themselves as local authorities and attract geographically targeted organic traffic.
Content Marketing and SEO: A Symbiotic Relationship
Content marketing and SEO go hand in hand to generate sustainable organic traffic. Content marketing involves creating and distributing valuable content to attract and engage the target audience.
Aligning content marketing with SEO strategies ensures that the content not only resonates with
the target audience but also ranks well in search engine results. By incorporating relevant keywords naturally into their content, small businesses can optimize their articles, blog posts, videos, and other content formats for search engines.
Valuable and shareable content is the cornerstone of successful content marketing. Small businesses should focus on creating content that educates, entertains, or solves problems for their target audience. By providing valuable information and positioning themselves as industry experts, businesses can attract organic traffic and build trust with their audience.
In addition to creating high-quality content, small businesses should also leverage content promotion strategies. This includes sharing content on social media platforms, engaging with industry influencers to amplify its reach, and utilizing email marketing to distribute content to their subscriber base. By effectively promoting content, businesses can increase its visibility and attract a wider audience, ultimately driving more organic traffic to their website.
Measuring and Analyzing SEO Performance
To assess the effectiveness of their SEO efforts and track the impact of organic traffic, small businesses need to measure and analyze their SEO performance.
Tracking organic traffic and leads using web analytics tools such as Google Analytics allows businesses to monitor the volume and quality of organic traffic they receive. It provides insights into user behavior, such as the pages they visit, the time spent on the website, and the actions they take. This data can help businesses identify areas for improvement and optimize their website accordingly.
Monitoring keyword rankings and visibility is another crucial aspect of SEO performance analysis. By tracking the rankings of target keywords in search results, businesses can assess the impact of their SEO strategies and make adjustments as needed. Additionally, monitoring the visibility of a website in search results provides insights into its overall organic presence and helps identify opportunities for improvement.
Utilizing analytics tools also enables businesses to identify the most valuable sources of organic traffic, such as specific search engines or referral websites. This information can inform future SEO and content marketing strategies, allowing businesses to focus their efforts on channels that deliver the best results.
Staying Updated with SEO Trends and Best Practices
SEO is a dynamic field, with search engine algorithms and best practices constantly evolving. To maintain their competitive edge, small businesses must stay updated with the latest SEO trends and best practices.
Adapting to algorithm changes and industry trends is crucial for maintaining and improving organic rankings. Search engines regularly update their algorithms to provide users with the best possible search experience. Small businesses should stay informed about these updates and make any necessary adjustments to their SEO strategies to align with the new ranking factors.
Continuing education and professional development are essential for small businesses to stay ahead in the SEO game. This can include attending industry conferences, participating in webinars, reading industry blogs, and obtaining relevant certifications. By investing in ongoing education, businesses can ensure they are equipped with the latest knowledge and skills to implement effective SEO strategies.
Incorporating emerging SEO techniques and technologies is another way to stay ahead of the curve. As technology advances, new SEO tools and techniques emerge. Small businesses should explore and adopt these innovations to gain a competitive advantage and maximize their organic traffic potential.
Overcoming Challenges in SEO Implementation for Small Businesses
Implementing SEO strategies for small businesses can pose unique challenges. However, with the right approach, these challenges can be overcome.
Limited resources and budget constraints often hinder small businesses from investing heavily in SEO. However, even with limited resources, businesses can prioritize SEO activities that deliver the most significant impact. By focusing on high-value keywords, creating valuable content, and leveraging free or low-cost SEO tools, businesses can make the most of their resources and still achieve meaningful results.
Competing against larger competitors with established online presence can be intimidating. However, small businesses have the advantage of agility and the ability to focus on niche markets. By targeting specific keywords and local audiences, small businesses can carve out their own space in the search results and attract relevant organic traffic. Building a strong online presence through consistent content creation, active engagement on social media, and targeted outreach can help small businesses differentiate themselves and compete effectively.
Another challenge for small businesses is keeping up with the ever-changing SEO landscape. However, by staying informed about industry updates, engaging in continuous learning, and leveraging the expertise of SEO professionals, businesses can adapt their strategies accordingly. Additionally, partnering with reputable SEO agencies or consultants can provide valuable guidance and support in navigating the complexities of SEO.
Building a sustainable SEO strategy requires patience and a long-term mindset. SEO is not a quick-fix solution but a continuous process that requires consistent effort and optimization. Small businesses should approach SEO as an ongoing investment, understanding that it takes time to see significant results. By staying committed and persistent, businesses can gradually build their organic traffic and generate sustainable leads.
Organic traffic driven by effective SEO strategies holds immense power for small businesses. By understanding the significance of organic traffic, implementing key SEO components, and leveraging content marketing, businesses can generate sustainable leads and fuel their growth in the digital landscape.
Through thorough keyword research, on-page optimization, off-page optimization, and technical optimization, small businesses can enhance their visibility, relevance, and authority in search engine results. By targeting local audiences, optimizing for mobile devices, and measuring SEO performance, businesses can further maximize their organic traffic potential.
While challenges such as limited resources and competition exist, small businesses can overcome them by prioritizing SEO activities, focusing on niche markets, and staying informed about industry trends. With a long-term mindset and commitment to continuous improvement, small businesses can harness the power of organic traffic and pave the way for sustainable success in the online realm.
In the quest to harness the power of organic traffic and implement effective SEO strategies, small businesses can benefit from the expertise and support of professionals like Sites by Sara. With their comprehensive understanding of SEO best practices and their ability to optimize websites for improved online visibility, Sites by Sara can help small businesses reach their target audience and generate more conversions.
Sites by Sara offers a range of services that cater to the unique needs of small businesses, including keyword research, on-page optimization, off-page optimization, technical optimization, and content marketing. By leveraging their expertise, small businesses can navigate the complexities of SEO with confidence, knowing that their online presence is in capable hands.
By partnering with Sites by Sara, small businesses can unlock the full potential of organic traffic, tapping into a sustainable source of leads and growth. With their authoritative tone, conversational writing style, and deep understanding of the power of SEO, Sites by Sara is committed to helping small businesses thrive in the competitive digital landscape.
Investing in Sites by Sara's services means investing in the future of your small business. Don't miss out on the opportunity to improve your online visibility, attract the right audience, and generate more conversions. Contact Sites by Sara today and take your small business to new heights of success.