Tips for SEO Optimization for Small Businesses in 2022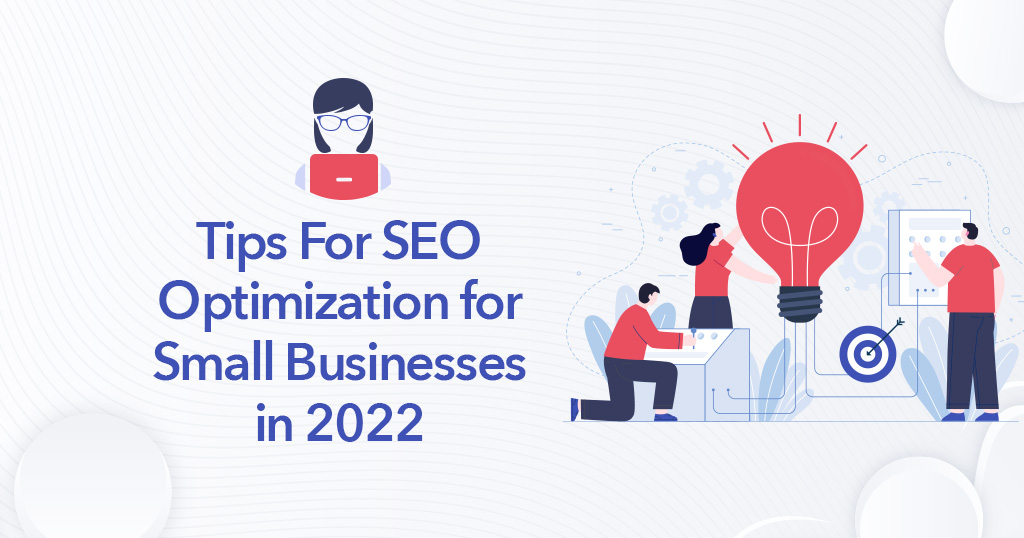 Digital marketing is highly competitive. To stand out as a small business, it is important to focus on your SEO. Local SEO Services can help your business reach your target audience, create quality content, and drive your search engine results. Successful marketing through your website, search engine results, and social media can help your business continue to grow every year. When it comes to building your customer base, these SEO for small business tips can make a significant impact on your outreach.
Google Is One of Your Best Tools
When it comes to successful online marketing for a small business, Google is one of your best tools outside of your own website. Every day, people reach for their phones to search for something. Google relies on algorithms to determine the usefulness of different websites' content for consumers. If your site isn't set up to comply with these algorithms, you can quickly drop as an option on a search results list. Most consumers don't bother going past the first few pages, so meeting these algorithms is key.
Google My Business Optimization Services can help small business owners highlight the information they need to stand out. Keeping your My Business Page up to date is crucial in ensuring your potential and current customers know exactly where to find you and how to contact you. This page allows you to add detailed information about your business, including product or service descriptions and contact information.
Another important area to focus on when it comes to Google is getting verified on Google Maps. Local SEO services often offer NAP Cleanup Services. NAP stands for your name, address, and phone number. This information must always be easily available and current. Google Maps can provide clear directions to your business, as well as make it easy for customers to leave reviews. This can help grow your local small business with ease.
Focus on Your Website
Creating a website is the first of many steps when increasing your digital marketing presence. SEO Optimization for small businesses starts with the way your website is structured and the content that you provide. When considering ways to boost your SEO, you should focus on knowing your target audience, optimizing keywords, creating valuable content, and so much more. While it is impossible to use every marketing tool out there, it is important to focus on the elements that are working best and continue to grow from there.
Know Your Target Audience
You have to know who your target audience is to drive high-quality leads. A common mistake that small businesses can make is creating content that ends up geared towards people or businesses who are like them. You have to consider what a prospective customer would be interested in versus someone already involved in that activity, service, or product use.
Optimize Keywords
Keywords drive search engine results. It is important to know what keywords will work best to boost your SEO. A reputable SEO company knows the different tools and tactics to ensure you are optimizing the use of words that will boost your results in search engines. Keywords should be used naturally throughout your site's content, especially in headers and other targeted areas.
Consider Your Product Positioning
Consumers aren't interested in gimmicky sales pitches. They want to know about your product or service, but they don't want it thrown in their faces. This is where product positioning comes in. You want to use your website, email content, and social media to show your prospective customer why they should specifically choose you. You want to make it clear what your product or service is, why it's different from your competitors, and why it should matter to them. This is best developed through substantial content, images, videos, and blogs.
Create Your Product-Focused Blog
Consumers love relevant content, and a blog is a perfect way to utilize keywords, develop strong content, and keep visitors on your page. Having a blog is the second-largest driver of new customers. You can use your blog to highlight targeted topics that relate to your product or service. If you offer plumbing services, you can offer valuable content on drain cleaning, appliance maintenance, and other topics that relate to what you do. Through this content, you can naturally weave your products or services. You are then providing your reader with information they need concerning a specific problem and letting them know your business is the solution to that problem. It is important to update this information regularly. This content can also be used across different channels such as emails or social media.
Build an Email List
Email continues to be a reliable marketing tool that can show promising results for local businesses. Email lists are a great way to communicate with your customers anytime. You can build your list by convincing website visitors to subscribe, such as offering a free eBook, booklet, or discount code. You can use your email list to send out newsletters, announcements, or specials you'd like to highlight. It is important to keep your email content relevant and dependable. If you offer a weekly newsletter, your customer should be able to trust they will get a newsletter every week. This is a great way to remind your customer you are there when they need you, as well as inform them of important updates or changes.
Be Personal When Possible
You want to maintain a professional presence online, but you also want to make connections with your potential consumers. People want to buy from other people, not just a logo that represents a business. Don't be afraid to let your customers get to know you. There should be a face to your business, even if it isn't yours as the business owner. This could be using your personal social media page to share content or using your About Me section of your site to highlight the philosophies and work ethic that drives your business.
Use Social Media
Social Media is another important element of building your marketing strategies. Social media platforms are used every day by millions of people. You can reach potential customers not only locally but globally. Platforms such as Facebook, Instagram, and Twitter have tools available to help business owners build their online presence. Social media is a great way to make a more personal connection with your customer.
Get Reviews
Reviews are a necessary element to getting the most out of your SEO. Consumers often rely on the feedback of others before making a purchase. As a small business, you rely heavily on positive local reviews to help boost your digital presence. Search engines like Google can make it easy for consumers to leave a review on your unique business page. You can also encourage consumers to leave reviews through different marketing campaigns.
Reputation Management Services can help businesses improve their review ratings. This could be through promotions that encourage customers to leave reviews or through a variety of techniques that minimize the impacts of potential negative reviews.
Let Us Help
When it comes to online marketing tips, the list could go on and on. What matters most is finding the marketing techniques that work best for you and building from there. SEO doesn't happen overnight; it takes a lot of ongoing research and search results. Sites by Sara is a local SEO Salt Lake City company, dedicated to helping businesses of all sizes build their SEO. Trusting a professional can help ensure that the marketing techniques you implement will succeed. Contact us to learn more about how we can help