Why Proper Maintenance Is Essential For WordPress Websites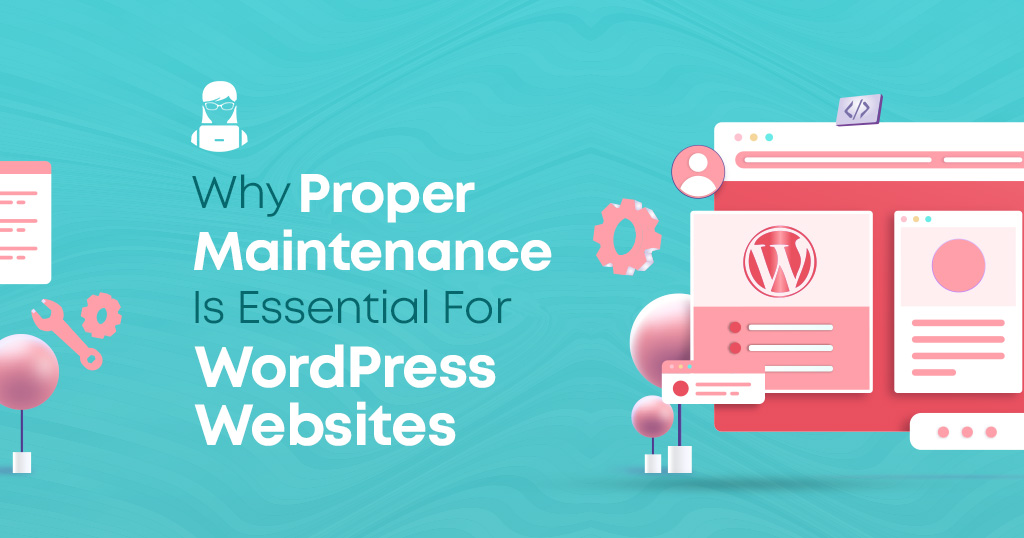 Anyone who runs a business practices an art form. Like any artist, they need the right tools. One crucial tool for business owners in today's market is a user-friendly website. Creating a site from scratch lends the most possibility. For most people, though, it's either too complicated, too costly, or too time-consuming. Companies like WordPress provide consumers with the unique ability to create a website without any background in coding or website design and run several kinds of sites from the comfort of their own homes. Rather than going back to school for another degree in coding, consider leveraging the power of WordPress.
WordPress provides a much-appreciated service for individuals and small businesses, but its server is not as hassle-free as it seems – at least not when you ignore it. The good news is that basic website maintenance can keep your WordPress site running smoothly and efficiently, and enhance the website's speed.
Speaking A Different Language
WordPress's main function is providing complicated website coding that makes a website function. It provides a user-friendly way to use that coding to design a website. Two types of coding are used in website development. The first type is called Structured Query Language (SQL), which is what communicates between the server and the database and allows a website to function online. The other type of coding is called Hypertext Preprocessor (PHP), which is embedded in HTML.
The good news? The details of this code are not necessary for users to know. What they do need to know is that websites aren't one-and-done creations. Once you get yours off the ground, it will need some basic maintenance to stay up-to-date and continue performing well, keeping WordPress up to date and secure.
Website Maintenance Increases Accessibility
WordPress's mission is to create a website design server. Business owners want to take the options WordPress offers its potential clients a streamlined and user-friendly experience. Consider that the functionality of a site is up to the user designing it. The catch-22 is that WordPress users don't always know the ins and outs of designing a functional website. If you fail to update your website's theme coding or to install premium plugins, or you become susceptible to malware or viruses, then you could be failing your customer base by offering a faulty site.
Sites By Sara can help with your ongoing website maintenance needs. Some of the services we offer include:
Speed enhancements which improve load time
Load and compress images
Analysis of Google Analytics data to improve Google Page Speed insights
Installing social proof elements and widgets to improve conversion
Adding or changing "Call to Actions" to boost conversion
Malware Scans and fix
WordPress user training
Updating plugins, ensuring no unexpected conflicts arise with your website
Mobile responsive fixes
Keep website content up to date
Offering a Site Backup
Swap logos
Fixing broken pages, 404 errors, redirections
Changes in design
Stay on Top of Upgrades for Smoother Transitions
As with any professionally run online platform, WordPress coding is an ever-evolving mechanism. Whether it's design or internal coding, websites constantly change and evolve. Because WordPress acts as a server for other websites, it's essential that the changes made to the server are also made in the websites the server hosts. However, WordPress's only responsibility is to run a viable server. It is not in charge of updating your website to keep up with the server they've provided. Unless your individual website is also constantly updated to match the server code, your site becomes a target for hackers.
Themes Aren't Just Pretty – They Affect Your Site's Performance
One of the first and most appealing aspects of creating one's own website is choosing a design and layout. WordPress provides hundreds of options. Picking the right one for a brand can be fun and exciting. What WordPress doesn't admit is that this very "make it and leave it" mentality is what opens websites up to myriad problems.
When the company updates its themes, themes already in use do not get re-coded. Naturally, if a theme's code does not mesh with the server's run coding, the website slows the server and takes a long time to load – increasing a site's bounce rate. If a theme's code is old, it can be easily injected with malware, whereas new codes have stronger protection. Even in the "best-case scenario," old code and themes lead to longer load times and lower sales.
Keep WordPress Up To Date and Secure
One of the most crucial reasons to keep your WordPress site updated is safety. To run a safe and effective WordPress website, the site must undergo constant supervision and upkeep. Every time a significant change is made to WordPress coding, the website should be monitored and updated. When new themes emerge, your site must be reworked and refreshed to run quickly and smoothly.
When new PHP is developed, your site's code must be updated to match. If it isn't updated, you risk being caught by advanced hacking software. To avoid lengthy load times that diminish sales and decrease profits, plugins and SQL must be reworked to match WordPress's latest versions. Without this kind of upkeep, your website will see a significant downtick in traffic, if not something worse.
Of course, that's just the first issue. WordPress sites that aren't maintained run into a host of other issues, including long load times, changes that affect the design, and hiccups to your site's processes.
Sites by Sara Can Help
Though they claim to be convenient and helpful, sites like WordPress are not as user-friendly as they advertise. Because they require constant maintenance without the one-on-one benefit of a website designer, users unknowingly take on a lot of responsibility when they sign up. This can be lethal for individuals running small businesses, who already have enough to consider without learning code or shelling out hundreds for a professional web design. WordPress maintenance is a serious time commitment but asking for help shouldn't drain your resources.
When you work with Sites by Sara, you aren't left in the cold. We work with you from every stage of the process to develop the WordPress site that suits your business's unique needs. Sites by Sara provides multiple tiers of WordPress maintenance services tailored to any need or budget. From running a 500-page WordPress site to small sites that keep it simple, our services offer the assurance that your page will stay as fast and healthy as humanly possible without causing you stress. Running a WordPress should be easy and fun, and Sites by Sara will make sure your website reflects the art of your business.