Are You Prepared for Google's New Ranking Factor Coming in 2021?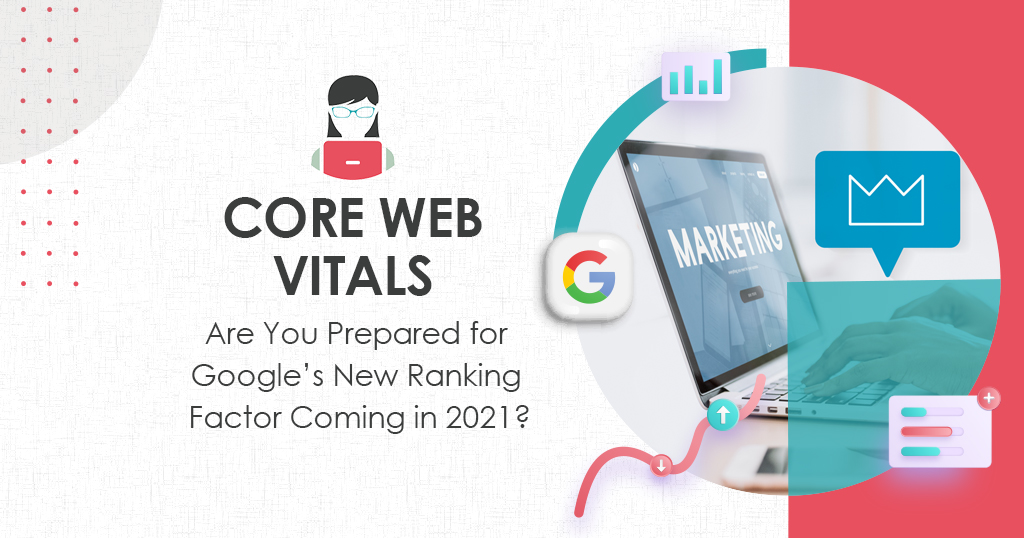 If you own a website, you know how important it is to keep up with Google's algorithms. As the internet world constantly changes, so do the criteria for a high-performance website. Heading into 2021, Google is rolling out a new ranking factor that will drastically change what a website needs to do well in a search. Though SEO and keyword links are still incredibly important, some new factors will be coming into play, too. Google calls these new performance metrics "Core Web Vitals," and they prioritize User Experience in search result ranking and website viability.
In this shift into User Experience-based website metrics, more will be required of a website's usability. Though information is always important, because of the vastness of the internet's information pool, ranking now comes down to how effectively your website can provide its information to users. This efficacy can be defined by three categories.

First Input Delay (FID)
FID deals mainly with the amount of time between when a user clicks on a website and when they are able to interact with the interface. Essentially, this is the time spent waiting for text and photos to load enough where you're able to scroll and click and use the website as it was intended. Though there is commonly a bit of a lag, especially on mobile website versions, Google is now prioritizing websites with shorter delays.
Largest Content Paint (LCP)
LCP involves the amount of time between clicking on the website and when the largest piece of text or largest image loads. Though this time can vary based on connection strength and speed, Google is using it as a yardstick for how quickly and effectively a website loads. Websites that utilize Lazy Load Optimization for images will appear higher on search engine result lists.
Cumulative Layout Shift (CLS)
CLS may be the trickiest to comprehend but is fantastically important to user experience – or UX. Cumulative Layout Shift refers to the phenomenon where text and photos shift around as more information is loaded. We find this often when accessing websites via mobile devices. A website may load enough to see text or some images, but as more of the website loads, the text and photos shift around to accommodate for the newly loaded content. This causes disorientation for the user and often means searching for one's place in the text to continue reading. This kind of inconvenience is a big part of what UX upgrades are trying to eliminate and therefore is a big focus for Google's Core Web Vitals rollout.
Your Website Score
For each of these categories, Google will assign your website a ranking. These rankings come in Good, Needs Improvement, and Poor. The criteria for each varies, depending on the category at hand. For example, a good LCP score is given to a website that loads within just 2.5 seconds, where a Poor LCP score is given to websites that take four or more seconds to fully appear. FID scores are measured in milliseconds, with Good ranking sites becoming fully interactable in 100 milliseconds, where Poorly rated ones take 300 milliseconds or more.
For Cumulative Shift Layout, it's a little more complicated. To measure CLS, Google developed a formula that calculates overall movement that takes into account the space the image takes up and the amount of space it moves from beginning to end. A good ranking website will come out of this equation with a 0.1, where poorly ranking websites earn anywhere over 0.25 or so. Your website's score in the three categories is what determines your ranking on the Google algorithm. Websites with higher scores will appear higher up than poorly rated websites, even if the information is comparable on both. To keep track of your score and stay on top of fixing any problems, you can check your website score with Google's Pagespeed Insights.
Implementing Website Performance Optimization
If you should find that your website isn't performing well enough for Google's new algorithm, fear not. There are several ways to combat website issues and improve ranking. The solutions to the problems will, however, depend on what category your issue falls under.
Issues with LCP
There are several ways to combat lagging LCP. Because the concept deals with the website's largest content, the most straightforward way to speed up LCP is to break up large content into smaller bits or eliminate it altogether. Lazy loading can also improve LCP, as it makes pictures load as the user scrolls and not all at once. Removing third-party scripts is hugely impactful on LCP speeds too.
Fixing High First Input Delay Times
FID, like LCP, benefits highly when you remove third-party scripts like embedded videos, chat boxes, and ads. Be sure to review your scripts and eliminate all unnecessary elements that cause input delays. Minimizing your website's use of JavaScript is also essential to website speed optimization. Though it's highly used, JavaScript significantly hinders FID scores.
Mending Cumulative Layout Shift Problems
Layout Shift issues can be vastly improved by the order in which you present information on your website. Putting photos lower down on the page doesn't interfere with the area in which a user will begin reading. By doing this, when the image loads, the text being read remains unchanged. It's also helpful for CLS problems if you set concrete image and video dimensions rather than setting them as a percentage of the page. This ensures that the image loads to its size and stays there. If your website uses ads, make sure they're confined to their own defined space too. It really helps here to optimize the website with preloaded images and videos as well.
We're announcing that page experience ranking signals for Google Search will launch in May 2021. This will combine Core Web Vitals and previous UX-related signals.

Learn more: https://t.co/OrrR8LDl1a

— Google Search Central (@googlesearchc) November 10, 2020
As we roll into 2021, it's important to ensure your website will keep up with Google's new rollout. Using Core Web Vitals for SEO and web development is vital to making sure your website stacks up in the algorithm. Luckily, you don't have to navigate this new world alone. Sites by Sara is the best in the business when it comes to website performance and speed optimization and is here to help with all your website needs. Contact us today!