Why Should You Hire a Website Content Writer?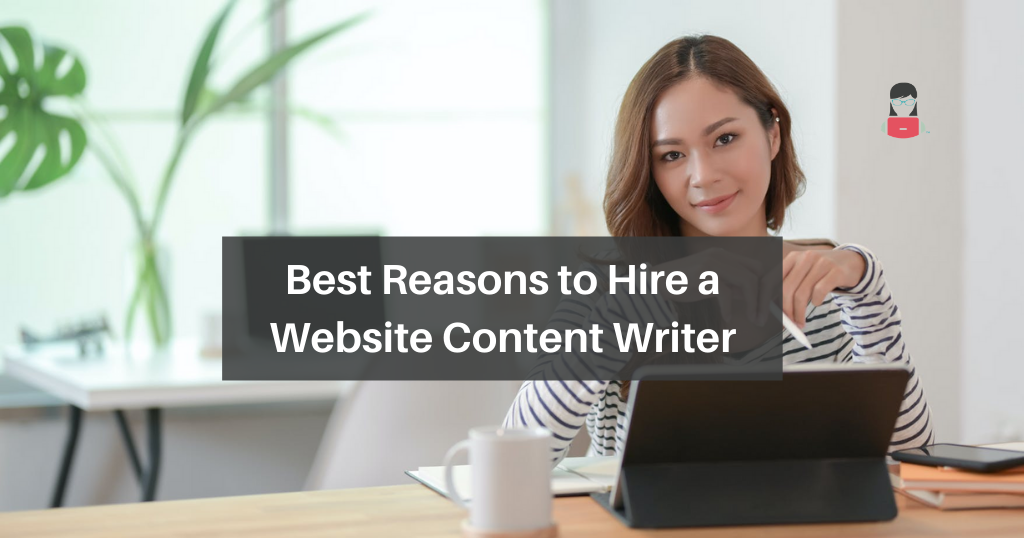 You've been through many trials and tribulations when it comes to building your business from startup to success. As a result, you know more about your company—and your niche—than practically anyone else on the planet. You know your capabilities, your service offerings, your products, and your very brand identity—and you know it well enough to answer any questions with ease.
You have a wealth of knowledge-but can you communicate it on your website with style and clarity? If not, you could benefit from a website content writer.
What Is a Content Writer, and Why Do You Need One?
In the most basic sense, a content writer is a professional writer who specializes in creating written content for businesses. More specifically, content writers focus on creating the web-based content you need to make your business stand out among a sea of others—both to human readers and to the web crawlers that determine your page's ranking on key search engine results pages (SERPs) like Google, Bing and more.
Simply put, your page content needs to communicate your page's purpose, express your brand identity, inform readers about your products, and spur desired actions like purchases and mailing list sign-ups—and you need to do it in a way that engages readers with high quality, relevant content. If you're not a writer, or simply don't have the desire to become one in addition to the rest of the daily demands of your business, a content writer is an ideal solution. You've worked hard to build your business; now it's time to ensure you're communicating the quality you strive for via your content.
Reasons to Hire a Website Content Writer
Aside from the necessity of having some sort of page content in the first place—even the barest-bones e-Commerce sites feature product descriptions—there are numerous reasons to hire a skilled content writing service. Here, we've compiled some of the most pressing:
Content writers are skilled professionals. Content writers have expertise in many types of writing and can create genuinely excellent content that is easy to read and accurately conveys your messaging. Writing completed by a content writer flows well, uses established standards, and makes your website look more high quality. By contrast, unprofessional copy laced with grammatical errors, misspellings, and worse can make your website—and by extension, your business and your product offerings—look low-quality.
Content writers know how to write for the web. Aside from being gifted writers, content writers are well-versed in the ins and outs of writing for the web. They know how to write good copy that engages users while exuding the brand identity and high quality you need to convey. Better yet, content writers know the tricks of the trade—how to break up text for readability, how to capture reader attention, and more.
Content writers can help you connect with readers. One of the primary purposes of any web content is to engage users. This is accomplished by answering user questions, boosting interest in your services or products, and more. A professional writer can help you eliminate industry jargon and communicate your information at a level your readers can truly understand.
Content writers can boost your SEO. Of course, connecting with your audience isn't the only purpose of web content—it's just as important to provide relevant information to Google and lift your pages up the SERP rankings. Content writers can incorporate important keywords naturally in your web content, including your backlink strategy, and more. Better yet, by keeping your web content fresh, you'll receive a natural rankings bump and attract user traffic to your page.
Content writers save you time and money. Even if you're a relatively skilled writer with copywriting and content writing experience, keeping a regularly updated blog, and optimizing your other web content takes time that you may not have to give. Assigning your content writing to an in-house staff member is similarly time-consuming and may require a larger financial commitment than you'd like. Outsourcing to a skilled content writer provides cost savings and helps you shift your focus back to the daily responsibilities of operating your business.
Top Web Content Types a Professional Writer Can Provide
Once you've decided to utilize a professional website content writer, you'll need to determine which types of content will work best for your business. Most businesses will require multiple types of content, as—aside from regularly updated, consistent content to boost SEO—it's important to feature a variety of content to connect with different demographics. In addition, utilizing multiple types of content can reach your existing audience at numerous points in their buying journey.
You can utilize a content writer to provide numerous content types, including:
Web copy—your web copy should enlighten users to the purpose of your page and inspire conversions. Whether you need a strong homepage, optimized product descriptions, or an About page that connects with your users, an experienced content writer can provide succinct, informative web copy.
Blog content—keeping a regular blog is a critical way to keep your page content fresh and your readers informed. In addition, utilizing essential keywords is an excellent way to build organic traffic by answering common client questions. Blog writing is a fundamental SEO tactic, and outsourcing to a content writer can ensure your blogs engage users and adhere to SEO best practices.
Guides and case studies—whether you've performed your case study research or simply have a wealth of knowledge on a subject, publishing web content is a great way to show your thought leadership. A content writer can make your data and insights exciting and actionable, promoting linkbacks and shares of your information.
Checklists—information presented in a list format is easy to read, actionable, memorable, and shareable. Content writers are well-versed in creating checklists that can deliver your information in a way that engages with your readers.
Email marketing copy—while email copy doesn't go on your site, it's just as important to driving web traffic as the other content types listed above. Experienced content writers can help you craft email copy that draws attention and incites action from your audience—boosting your traffic and sales in the process.
Let Us Help You
You need engaging, quality content for your e-Commerce pages, your website, your mailing list, and more. Our website content writers can help you create it, boosting your expertise and authority—and saving you time and money—in the process. See how Sites By Sara can decrease your bounce rates, increase your clickthrough rates, and improve your content. Call or text (385) 355-5351 or inquire online today.