Do You Need a Google Grants Manager?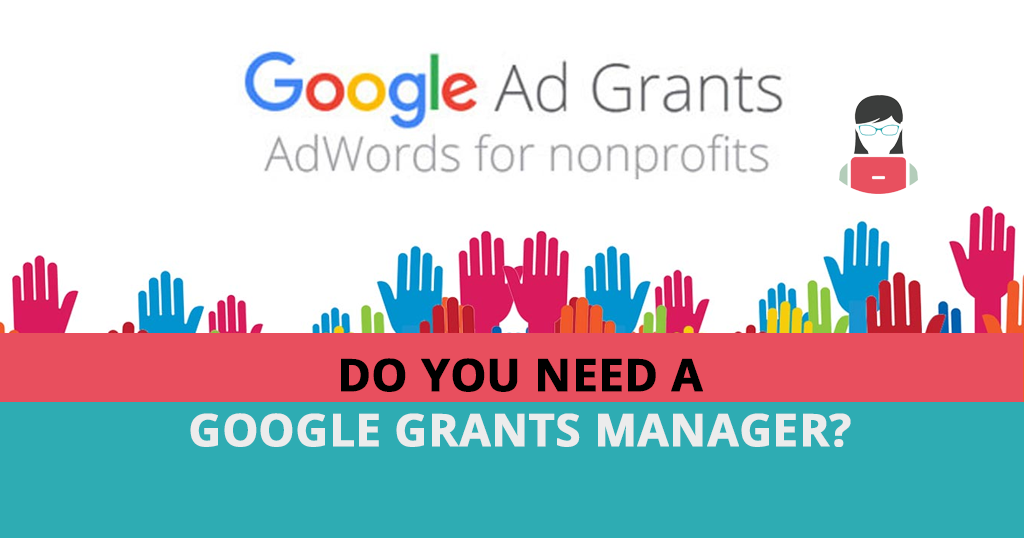 No matter the size of your nonprofit, fundraising and grant funds make a significant contribution to your bottom line. A Google grant can be a powerful tool in your fundraising toolkit. A Google grant can provide an eligible nonprofit organization with up to $10,000 per month to spend on digital marketing—specifically Google Ads. These ads will display whenever someone searches for keywords relevant to the ad—at the top of the search results, with a link to your organization's website.
If you already have a Google grants account, you know the type of exposure this campaign can bring. Without an experienced Google grants manager, on the other hand, you could be missing out on its full potential. A Google grants manager can also help you sustain the life of your grant, as you could lose it if your organization doesn't hit critical metrics.
Here we'll outline everything you need to know about Google grants management, from setting up a new account to developing a successful strategy. Learn everything you need to know to take full advantage of the program.
Google Grants Management: The Basics
Our first section is for the uninitiated. What is the Google grants program, and what does management look like? A Google grants manager takes on all aspects of organizing and maintaining your Google grants account, which entails:
Applying for Google Grants
Setting up your nonprofit's Google Grants account
Researching and selecting Google Ads keywords
Creating and optimizing your Google Ad copy
Monitoring success of Google Ad campaigns and metrics
Maintaining the Google Grants account and making adjustments as necessary
Making the most of your Google Grants account requires a basic understanding of the three main components: ad campaigns, keywords, and ad groups.
Campaigns cluster around themes of goals that your nonprofit wants to achieve. For example, if your nonprofit focuses on homeless services, you may have separate ads for volunteer recruitment, food donations, and community partnership development.
Within your ad campaigns, you can have distinct ad groups that include researched keywords. Our previous example may consist of ad groups called "homeless outreach" or "awareness and education." From there, you might develop keywords, including geo-targeted keywords like "homeless shelter near me."
Successful management of all these moving parts is essential to the success of your Google Grants account. That's why many busy nonprofit directors rely on the experience of a Google Grants manager.
Applying for Google Grants
If you don't already receive a Google Grant, your next question is likely, "How does my organization get involved?" Thankfully, Google makes this part straightforward. To receive a Google Grant, you will need to apply via Google for Nonprofits, an umbrella program that nonprofits can use to promote their charitable causes. It includes services like YouTube Nonprofit, G Suite for Nonprofits, and of course, Google Ad Grants.
Is your nonprofit eligible? To enroll in Google for Nonprofits and apply for Google Grants, you'll need to meet the following criteria:
You must be a registered 501(c)(3).
You must register with TechSoup.
You must have a website if you want to see more traffic.
Organizations such as government entities, hospitals, and health care organizations, and educational institutions do not qualify.
If you meet all these qualifications, you can enroll in Google Grants and begin taking advantage of Ads. The Google Grant application process isn't competitive per se, but you don't want a missing component in the application to earn you a rejection. A Google Grants consultant can help you navigate the process so you can take advantage of your ad campaigns as soon as possible.
Your Google Grants Management Strategy
Now that you have your Google Grant, it's time to think critically about what you plan to do with your $10,000 per month. What will be most successful in driving traffic to your site and helping your organization achieve its overall goals? Before setting up ad campaigns and starting the keyword bidding process, you will need to brainstorm answers to the following questions:
What type of engagement do you want to result from your ad campaigns? Donations? Volunteer recruitment? Subscribing to your newsletter?
Who will be viewing your ads? What demographic data do you have on the people who engage with your organization?
How do you want to prioritize your Google Ads campaign? Do you want to target a significant campaign or spread your grant money over multiple campaigns?
The answers to these questions will help guide your overall Google Grant strategy. Once you have the answers, you can move onto the next steps, which include:
Selecting keywords. By using Google's keyword tool, you can research potential keywords and create a master list to bid on using your Google Grant money. Your keywords should be both specific and relevant to attract searchers who are going to aid your cause.
Developing multiple campaigns. Many nonprofits fail to take full advantage of their $10,000 per month because they don't set up various ad campaigns or group their ads into as many campaigns as possible. To reap the benefits of your money, we suggest setting up multiple ad groups such as Donate, Volunteer, Fundraise, etc.
Writing compelling copy for your ads. Finally, one of the most critical aspects of your Google Ad campaigns is writing optimized, relevant copy that will appear in searches. Each ad should include a clear call to action (CTA), so users know where they will go when they click your advertisement.
The Advantage of a Google Grants Manager
As you can see, a Google Grant can be a boon for your nonprofit—but it also requires a significant investment of time. A Google Grant may seem like a time sink that you can't afford with everything else on your plate if you are a busy nonprofit manager, director, or administrator. That is where a Google Grants manager comes in—we can handle all aspects of your Google Grant, from establishing eligibility, applying for the grant, developing effective ad campaigns, and writing optimized, compelling copy that drives results.
Sites by Sara can help take your nonprofit marketing to the next level—check out our website for further details or call/text us at (385) 355-5351.