How a Digital Marketing Agency Can Help Save You Money and Boost Your Bottom-Line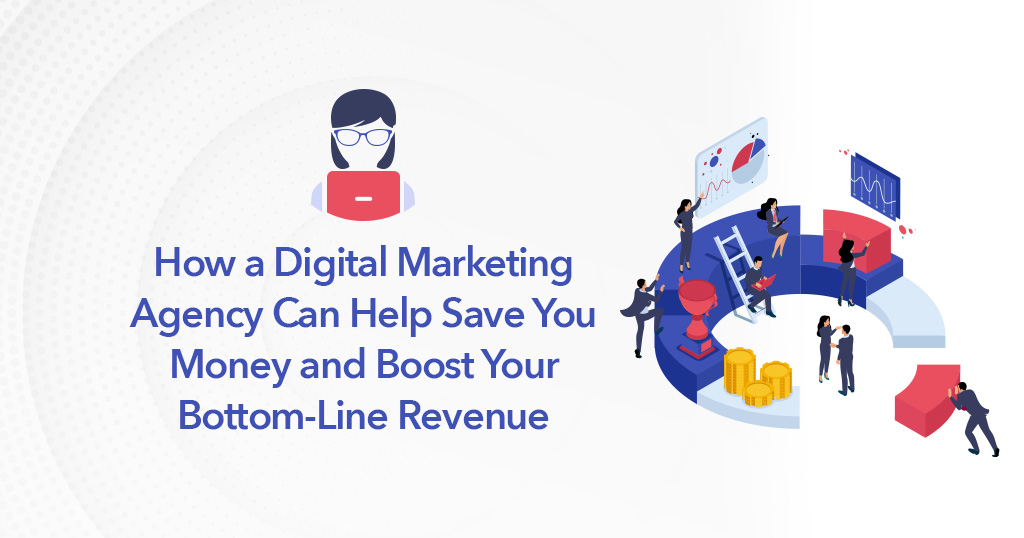 Having an effective digital marketing program is vital for reaching new leads and customers. The majority of consumers now do their shopping online. This means having high rankings on search engine results can greatly affect the success of your business. When it comes to optimizing your search engine results, you have a few different options. You will have to decide if you want to tackle your SEO yourself, hire an in-house marketing team, find a reliable consultant, or trust a digital marketing agency. You'll need to consider which option can provide the best ROI for you and your business.

A digital marketing agency in Salt Lake City is beneficial for several reasons. Whether you are just starting to build your business, or you are established but looking to expand, you always have to consider your bottom line when it comes to money spent and money earned. A digital marketing agency can help you save money on marketing while also boosting your online sales.

Hiring an Agency Is Cost-Effective

Hiring can be the most difficult part of business growth. The cost of hiring an in-house marketing team is much more than just the employee's salaries. You have to consider how you will establish the work culture, you'll need to make sure you have an HR department in place, you'll have to invest in recruiting techniques, and you need to establish office space. This needs to take place before you even start to interview potential employees. Once you do start hiring, you'll need to make sure employee salaries, taxes, and benefits are all clear and established.

In addition to the financial burden of hiring a full in-house staff, you also have to factor in all the time spent in hiring. You have to establish your onboarding process, take care of performance reviews, create schedules, and make sure you are complying with all the legal red tape of having employees.

Hiring a digital marketing agency in Salt Lake City is a much more cost-effective option. You don't have to worry about hiring different individuals to make up your marketing team. You also don't have to worry about different salaries, benefits, and interoffice complications that can happen with an on-site team. A digital marketing agency charges a specific percentage of your media spend with a flat monthly minimum and initial setup costs. This makes budgeting for a marketing agency much easier financially and with time spent.

Better Overall Efficiency

Success in digital marketing largely involves the ability to stay up to date and apply beneficial techniques quickly. Search engine platforms such as Google are constantly evolving their algorithms to meet the demands of those using their search engines. This means that your marketing team needs to be able to do the same and do it quickly. A digital marketing agency handles multiple clients at a time. This works in your favor because it means that your agency will work with greater urgency to ensure the results they promise are delivered.

An agency is often able to operate more efficiently because they are not involved in the bureaucracy of your business. You don't have to worry about workplace slacking, constant meetings, and continuous emails, memos, and other documents circulating to get the job done. Agencies have the unique ability to positively contribute to your business externally, allowing them to avoid the corporate day-to-day operations that are common with in-house marketing teams.

Agencies Provide Flexibility

SEO in Salt Lake City through a digital marketing agency provides greater flexibility to business owners. The consumer market naturally ebbs and flows. This causes businesses to experience periods of both expansion and pulling back. Depending on the market, how established you are, and the cash flow you currently have available, this can greatly influence your ability to maintain an in-house marketing team.

An agency provides better flexibility when it comes to consistently having support for your digital presence. If you choose an agency, you can go through the onboarding process within days. Most digital marketing agencies provide flexible options to meet your unique demands. You can choose how involved your marketing agency is when it comes to your overall SEO plan. If ever necessary, scaling down or terminating your professional relationship is often unproblematic when done with reasonable notice.

Agencies Provide More Client Experience

There are certain SEO elements that work across the board for all companies and elements that are unique to your business. Using a digital marketing agency in Salt Lake City provides you with the knowledge of individuals who have worked with a variety of clients. This allows your digital marketing team with a wealth of knowledge from different business industries.

The experience alone is a great benefit for your ROI. A digital marketing agency has already had to learn through challenges and experience. This increases the likelihood that they have already experienced many of the obstacles that you may be currently facing. Not only have they already faced these obstacles, but they know the best solutions that can be applied quickly. This saves you both time and money.

Agencies Help You Scale Faster

Digital marketing involves careful research, trial, review, and redirection to achieve the best possible benefits. Your digital marketing agency can easily grow with you. A professional agency can handle additional marketing channels, work with larger budgets, and easily launch new campaigns. This can all be done within days, unlike an in-house marketing department that could take weeks or even months before they could handle the workload. Scaling quickly is especially beneficial if you are in the early stages of growing your business. An experienced agency can help you get your business off of the ground in no time.

Better Access to Marketing Tools

There are several different marketing tools that are available for business owners to help build their business and explore their position in the digital marketplace. These tools are valuable in helping you determine what is and isn't working when it comes to your SEO plan. These software subscriptions can be a significant cost in your overall budget. Having a suite of different marketing tools can add up quickly, potentially costing you over $1,000 a month. For companies that are just starting, or those who don't have a lot of extra capital, this can be too demanding.

Before you even select what marketing tools you want to use, you have to go through the process of researching your different options and testing the different software to find what works best for you. This can be time-consuming. It can also cost you more initially while testing different software. You'll also have to be careful in choosing software platforms to ensure they are compatible.

A well-established digital marketing agency will already have access to a wide range of reliable marketing tools. They have already taken the time to discover what software tools work best for a variety of different businesses. They also have the ability to use their subscriptions across all of their clients. This ensures that you will have the best system of checks and balances without having to invest more time and money in the process. Access to different marketing software is typically included in your flat rate of working with a marketing company.

Better Support for In-House Marketing

It is beneficial to have some type of in-house marketing program, even when working with an agency. An in-house marketer is a part of your team. They know your business, your intended audience, and any seasonal campaigns you run, and are solely dedicated to your brand. A professional marketing agency will work with this team or individual to take direction, provide experienced suggestions, and ensure that any plans you want to be achieved are well executed. A marketing agency has the knowledge and experience to know what plans are practical, and what adjustments may have to be made to achieve the best results possible.

Clearer, Faster Feedback, and Adjustments

A digital marketing agency has the experience and tools readily accessible that make tracking the success of your SEO plan easier. Your agency will be able to quickly analyze data gathered by marketing tools. With their experience, they can offer solutions based on experience that can help you improve your ranking online. Making adjustments quickly helps save you both time and money while also securing your ability to make more money by increasing your ranking.

Web Design Company Near Me

Turning to a digital marketing agency in Salt Lake City can provide a reliable ROI. You'll be able to save both time and money by trusting a marketing company. They provide the experience, knowledge, and tools you need to rank higher in search engine results. They handle all aspects of marketing. This allows you to focus your efforts elsewhere while still experiencing an increase in revenue. When seeking SEO Salt Lake City agencies, Sites by Sara provides all you'll need to expand your digital presence. The professionals at Sites by Sara can help design your website, increase your relevant content, manage your social media, and cover all marketing aspects that can help you grow. Contact us today to learn more.