SEO Tips to Help Your Website Rank Higher in Search Results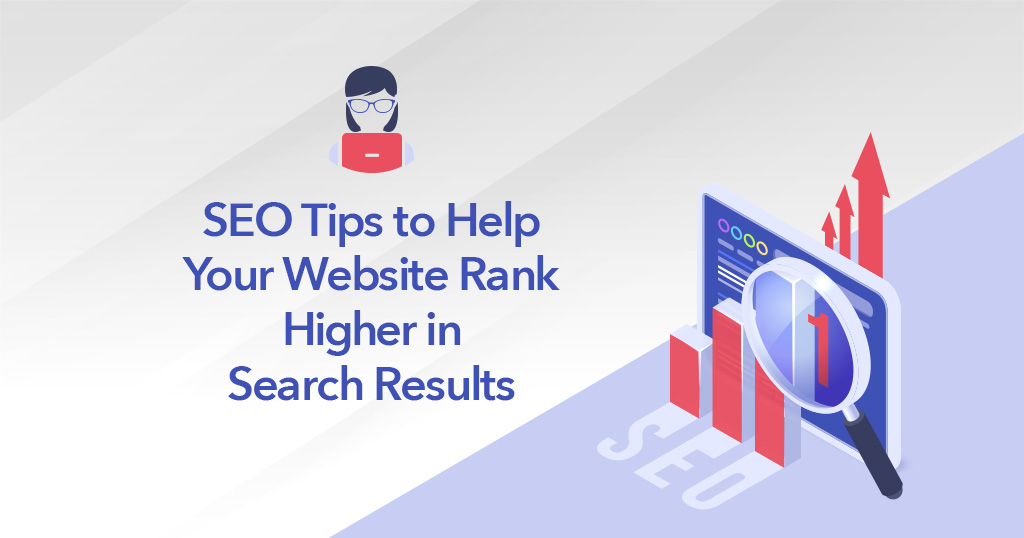 Search engine optimization (SEO), is one of the most important aspects of creating and maintaining a successful website. There is no denying how important a strong digital presence is for any business. Most consumers rely on search engine results to guide them toward the best products and services available on the market. This has put an added importance on designing your business site to adapt to the needs of the consumer.

If you're not actively participating in optimization for search engines with your website, you are likely missing out on significant consumer traffic that could be generating revenue for your business. SEO is key in ensuring that your website ranks high, drawing more consumers to your website. When it comes to helping your website rank higher, you'll want to consider different aspects such as your content, design, and ease of use.

Publishing Relevant Content

Content is key when it comes to ranking higher in search engine results. Google is one of the most commonly used search engines around the world. Google strives to provide the best user experience possible, resulting in changes to its algorithms that can happen on an almost yearly basis. These algorithm changes are designed to better anticipate the needs of a consumer so that inquiries can be answered quickly and accurately.

One priority that remains at the top is relevant content. Consumers want to learn more than just what you have to offer. They want to know why it should matter to them, and how it can improve their life. Great content that targets your ideal consumers can help improve your site's relevance and authority.

Use Keywords

An important aspect of relevant content is the use of specific keywords that can be used repetitively throughout your content while still feeling natural. Keyword selection is not as easy as it may sound. You'll need to put yourself in the mindset of your consumer. You'll have to determine what words they would be typing into a search engine bar that could lead them to your website. You also want to think of keywords that can be used in different phrases that provide variety but are still similar. If you provide plumbing services, you'll want to consider keywords such as, "plumbing" "plumbing near me" "local plumbing company" and "plumbing in [city/state]". This provides a variety of keywords that can be used throughout your content, without trying to utilize completely different phrasing multiple times.

Determining the best keywords for your site is just one step of the process. Keywords should be used frequently but should also make sense. You'll want to use your keywords throughout your content. This includes page titles, headings, subheadings, and the content itself. You should aim to use keyword phrases multiple times early on in content, and naturally throughout as well. The most important aspect is keeping it natural. Your content needs to make sense at the end of the day or your reader won't be interested in reading what you have available or returning for more in the future.

Keep Your Content Up to Date

The best way to keep your search engine rank high is to keep content up to date and relevant. Blogs can help you do this with ease. They allow you to explore different topics that relate to your products or services. Blogs are a great way to inform your reader about different topics as well as use your keywords naturally.

Embrace Mobile-Friendliness

It is no longer enough to have a website that looks great on a desktop or laptop computer. Your website also has to be mobile-friendly. The majority of consumers are now using their phones to make the majority of their online searches and purchases. Mobile-friendliness means that your website is just as easy to explore on a phone as on a computer. Your website's content should still be clear and easy to find. If a consumer has to rotate their phone, zoom in or out, or struggle in any sense, they will likely choose to find a site that offers the same products or services on a website that is completely accessible on a mobile platform.

Make Your Links Make Sense

It is beneficial to provide different links throughout your website. These links can be used throughout your content. Relevant links provide a way for a visitor to access more information with ease. This could include links that lead them to other content on your site that further explains something mentioned in a blog. Links can also be used to lead consumers to your social media sites, contact pages, or newsletters. You want to always make sure that these links are active and working correctly.

Properly Format Your Page

Formatting plays a major role in your SEO. Trends in design are constantly changing. It is beneficial to research what consumers are currently attracted to. The design includes how your website looks and functions. Consumers expect to achieve the results they are looking for quickly. They don't want to spend time searching through your site to find the information they need. Unclear information, faulty links, and dead-end tabs can lead a prospective consumer to your competitor's page. Your website should have a natural flow that makes sense. Your tabs should be clearly labeled, and provide content under that tab that makes sense, provides relevant content, and is keyword heavy.

Your website should include a variety of text, images, and videos to engage visitors in different ways. Too much text can feel overwhelming, and even great content may be skipped if presented in large, bulky chunks. Text content should be broken into small paragraphs with clear subheadings that help guide the reader. This allows readers to find the information they want within moments without having to read through irrelevant content first.

Images and videos are a great way to communicate ideas that could be too long or complicated for text. Short videos can cover a lot of relevant information quickly. Videos and images also add another layer of personal touch to your site. They allow you to put a face and a personality to your business.

When experimenting with text, video, audio, and images, you want to make sure you don't over-clutter your pages. Everything should be carefully placed so that it makes sense and works together. You don't want to have elements of your page that distract from your main goals and messages.

Avoid Slow Loading

Ranking high in search engine results also means that you have a website that loads quickly. Slow loading times are a huge factor in potential consumers backing out of your website, even if you have great content and interactive materials. Slow loading times can affect your ranking. It is important that every aspect of your website loads quickly with little to no lag time.

Use Social Media

Social media can be an amazing tool when it comes to boosting traffic to your website. Social media platforms allow you to connect with a worldwide audience. You can create content that helps guide more users to your website. This is where appropriate linking can make a huge difference.

When considering incorporating social media use, you have to be willing to invest time in doing so. You want your social media to be just as relevant as your actual website. This means posting relevant content on a regular basis. You should consider posting at least a few times a week. You can use your social media to reach a larger audience, provide more interactive content, and further develop your digital presence.

Developing a Quality SEO Plan

Search engine optimization is key in boosting your online presence as much as possible. Ranking higher in search engine results can significantly improve your revenue, and build your company. This begins with careful research to understand where you are currently ranking. It will give you an idea of what is working, and what could use improvement. Researching the market and your competitors also provides an idea of what content and keywords are resounding the most with consumers. SEO is not something accomplished overnight. It takes careful research, planning, development, use, and examination.

Trusting a professional SEO agency can help make this process even easier. Unless you have the time, tools, and knowledge available, trying to optimize your SEO can be time-consuming, and potentially expensive. Sites by Sara is a Salt Lake City SEO Company that can help you improve your search engine presence. They have the research, experience, and knowledge to stay up to date on the latest SEO plans for achieving long-term success. This Salt Lake City SEO digital marketing company can take care of every aspect of developing your SEO plan. Working with a professional digital marketing company provides peace of mind that your website will continue to evolve to meet the needs of the consumer. This leads to more online foot traffic, which leads to more revenue and awareness of your unique company. The digital market is highly competitive. A successful SEO plan is one way to set yourself apart from others.