How to Set Up Your Domain Email on Your Phone and Desktop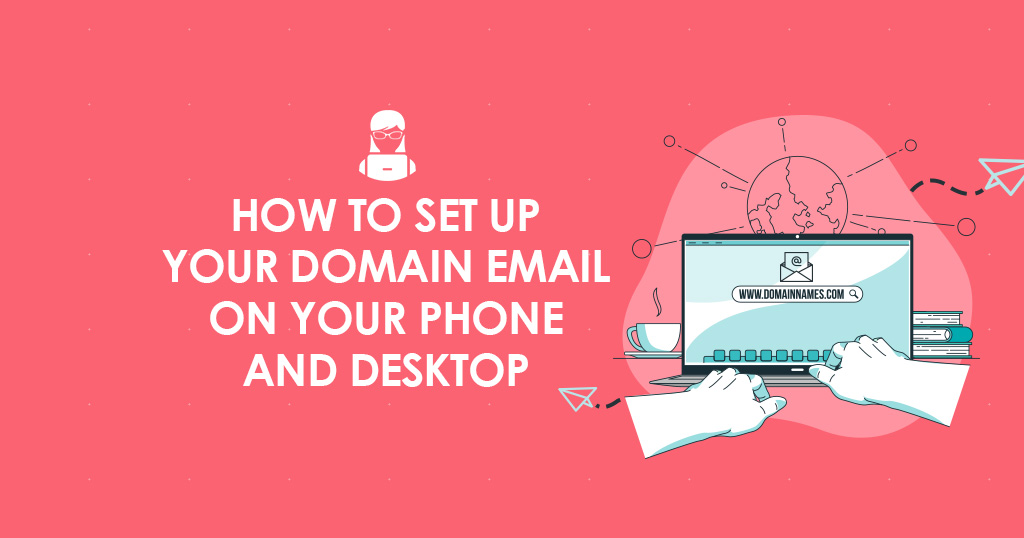 As a business owner or business professional, you have a lot of things to think about. Working independently means that you will manage everything from your schedule and to-do lists to client communication and marketing. No matter your role, having a domain email as your primary mode of professional communication indicates to clients and employers alike that you are serious about your work and are self-motivated.
Though these domains are fairly common and easy to set up, getting them to sync in the same way that a regular Google email does is a little trickier. Of course, as a professional, you want to have access to your modes of communication at all times, so setting up your domain email on your phone and desktop is of the utmost importance. You need to be sure that communication isn't interrupted and that you've done it correctly so that important emails aren't lost in the shuffle or miscategorized. The process to set this up is fairly complicated for the universality of email, but with these instructions and background on your side, you'll be ready to go in no time.
Why a Domain Email Is Important
Before we discuss the process for setting up your email on your devices, it's important to understand why domain emails are such an incredible tool for business professionals. These emails aren't just more personalized; they have security and respectability advantages as well. These are some of the top reasons to get a domain email.
It Shows That You're Serious
Business owners who use free email services for professional communication give the impression that they haven't put time and energy into their online presence. By switching to a personalized domain, it shows that you've put work into making your business's website look and function professionally.
It Adds Protection
Because so many people have access to websites like Google, the likelihood that someone could hack into the server is exponentially higher. Private or sensitive information should always go through a private server and domain to ensure maximum security and protection.
It Keeps You From Becoming Spam
Many businesses run through free services such as Google and Yahoo have their emails categorized into spam folders. This is because your email appears much less legitimate on free servers and more intentional on a domain email. Avoiding spam folders allows you to grow your reach and client base more effectively.
It Increases Long-Term Security
If sites like Yahoo or Hotmail are down for whatever reason, you can't access the information you need to conduct business. Having your own domain email ensures that you're not at the mercy of these companies for when and where you can use your email and gain access to important business correspondence.
POP3 vs. IMAP
When setting up your domain email, there are two ways to connect to the server to access your emails via an email client. Both have pros and cons, and it's important to understand the difference so that you can make the choice that's right for what you want your email to do. IMAP, or the Internet Message Access Protocol, stores emails outside of the device on an email server. Rather than the email staying on your computer, it's on a more internet-based storage system that allows you to access it from anywhere.
POP3, or Post Office Protocol, does the opposite. This system tries to keep the email on a device rather than upload it to a server. In general, IMAP best suits the needs of most people. It's convenient and generally safe to access your email from multiple devices, and IMAP allows you the freedom to do that. POP3 works better in high-volume situations when you get a large number of emails per day. With this system, you'll only be able to access your email from one device, so you'll have to choose which is most convenient. It's possible to back up your important correspondences and reset your email to switch between the two if you've found that you're on the wrong one.
Setting up domain email on an iPhone.
Go to your settings app.
Choose "password and accounts."
Click "add account."
Choose "other."
Click "add mail account."
From here, you'll be asked to enter basic information:
Name
Domain email address
The password you have for your domain email address
A short description of the account
After this, you'll be asked to enter the incoming mail server details. Remember, this is the information for your domain email address.
Hostname: the website from your domain email address
User name: your domain email address
Password for the domain email account
Follow the same three steps for the outgoing mail server as you did for the incoming mail server. Once this is completed, you are ready to go.
Setting up domain email on Android
Go to "settings."
Search for "add account."
Choose "manual setup."
Here you will be asked about the type of email you would like. This is referring to the IMAP and POP3 styles discussed above. For most people, IMAP is best.
Username: your domain email
Password: the password for your domain email account
Server: the website associated with your domain email

Port and Security Type:
For secure, Port 465 and security type SSL/TLS is correct.
For insecure, Port 25 and security type None is correct.
In the end, you can choose the settings that work for you. When you are done, click "next," and your email is ready for use on your phone.
For more tips on how to improve your business's online presence, social media marketing, SEO efforts, and more, contact Sites By Sara. We are skilled at managing the changing online landscape for businesses and have the tools and expertise to help your website reach its highest potential. No matter what you need for your website, Sites By Sara is here to give the best professional advice in the business and make sure that you feel confident in your online platforms. Call us today for a free consultation.