Online Reputation Management for Small Businesses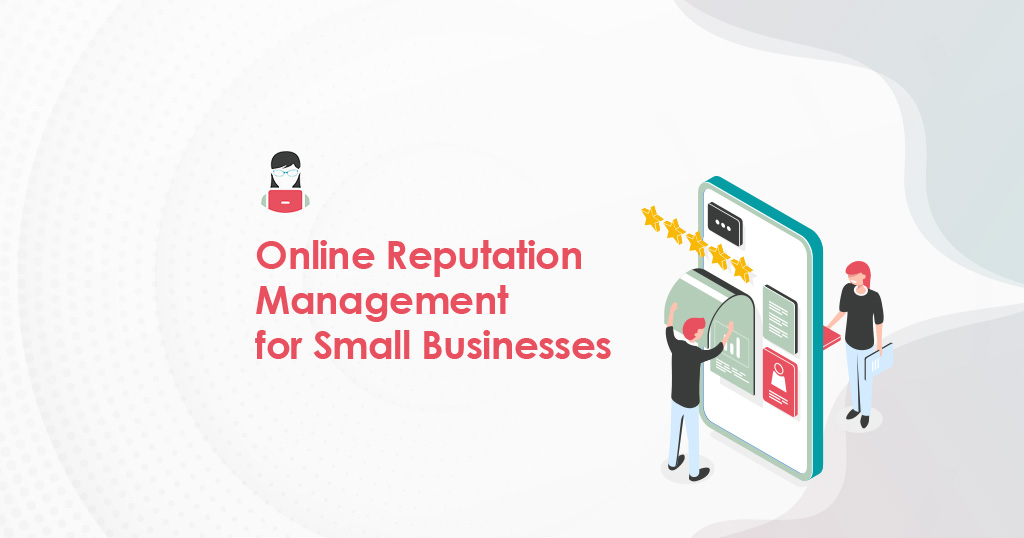 Online Reputation Management (ORM) is the way of creating positive content to balance, overrule, hide, and negate negative reviews about a brand or business.
Don't we know how important brand reputation is for a business? When it comes to small businesses, things get even more serious. What will you do if you start losing clients because of a few negative reviews on the internet?
Whether it's products or services, negative reviews can harm a small business very fast. However, controlling these reviews is not in your hands. You cannot really guess what a customer or fake customer is going to post about your brand. That said, you can manage what the users see on the internet.
That's where ORM enters the picture. It is a one of the best offered service by Sites by Sara. ORM involves social media marketing and management, SEO, and content creation to highlight the positives of your business. The aim is to post positive content and optimize it for the search engines to bury the negative reviews in the later search pages.
ORM also involves responding to negative reviews and asking happy customers to post positive and promotional reviews. At times, it also involves deleting negative reviews. Though, that is not a strategy we recommend to any business. Outsourcing ORM makes it easy for small businesses, and more often than not, the responsibility is taken up by the same SEO company you've hired for digital marketing.
ORM and PR
Does the process of ORM sound familiar? That's because it is a little similar to PR management. That said, the major difference between the two is that PR aims to bring more media coverage.
ORM is a much broader focus and doesn't need as many influencers to promote the brand as PR does. ORM is more concerned with pushing positive content on the Internet. The common factor for both these is that they can be used to build an individual's reputation and a brand's reputation.
Businesses That Use ORM Services
Well, there aren't typically any exceptions or limitations to use ORM services. That said, large brands aren't as much affected by negative reviews as smaller ones are. The reason is simple. Large-scale businesses have been in the market for a longer time and have built their customer base over the years. This gives them the required leverage to ignore negative reviews as there will always be more customers sharing positive views about the brand. Unless the brand makes a major tactical mistake and losses the trust of its loyal customers, it's not likely that an established brand will hire ORM services.
On the contrary, small and medium businesses rely a lot more on customer reviews. Having potentially negative reviews can harm the business's reputation, and if you don't act soon, things can get out of control very fast.
If an SMB has more negative reviews visible on the internet, your potential customers will choose your competitors. You need to work on damage control ASAP, and hiring ORM services is the best option. Of course, you can have your own in-house team take care of it. But nothing compares to the expertise of a professional, and with limited resources, employing a team of experienced professionals is rather hard.
Outsourcing the task will be cost-effective and ensure that you can continue to build your brand while the service provider will tackle your online reputation and marketing.
The Need for Branding and ORM for SMBs
Around 93% of customers say that they read online reviews and are influenced by them before choosing a brand. The percentage is even higher for local businesses. As many as 97% of customers use the internet to find a business in their area and go through the reviews before making the final decision. .
Now, imagine what negative reviews can do to your small business? You are essentially losing a major chunk of revenue if you don't try to nullify the impact of negative reviews. Whether on social media or search engines (Google My Business and aggregator directories), you need to share positive details about your business and encourage the target audiences to give you a chance.
Also, remember that customers are more likely to believe the word of another customer rather than yours. After all, customers have to stick together!
That's another prime reason to hire ORM services, and Sites by Sara is popular for delivering the promised results and improving your brand's reputation online.
Strategies for Branding and ORM
The following are some common and well-used strategies used by ORM consulting companies.
Asking for Reviews for Happy CustomersIf your business is doing even moderately well, it means that you have at least a handful of happy customers. If not, your problem is much deeper, and even ORM won't solve it.

Assuming that you have a substantial customer base, you should put more effort to make satisfied customers review your business on the internet. Whether it is on social media, GMB profile, or third-party review sites, ask customers to leave a review about your business.

Responding to ReviewsRegardless it is a positive or a negative review, you must respond to a customer's opinion/ feedback about your business. Be polite, be assertive, and be helpful. People pay extra attention to your responses. Try to offer a solution and be understanding, no matter how bad the review sounds.
Monitoring Social MediaPlatforms like Facebook, Twitter, Instagram, etc., are hot zones for discussions about brands. Customers don't always tag your page to alert you about their frustrations. They post on their timelines, which are read and discussed by friends. You'll need to monitor and find such posts on social media. Try to find if the reason is genuine, and then act on it.
Content MarketingContent marketing has been an effective digital marketing strategy for years. By posting targeted blogs with highly relevant and quality content, you can attract users to the brand. Using keywords with high search volumes will put your blogs at the top of the search results page and push the negative reviews to the subsequent pages.
SEOSearch Engine Optimization helps promote positive content about your business by burying the negative reviews and pushing them out of sight. You can say, it goes hand in hand with content marketing. But first, you need to create high-quality content and use the right keywords. That's where ORM experts deliver results.
PRPublic Relations can be termed as a part of ORM services. Though it includes print and television media as well, PR also handles online visibility and promotion. Usually, brands hire different companies to handle PR and ORM.
Claiming Business ProfilesClaiming your (GMB) Google My Business profile is essential if you want to create a positive impression on your customers. Update the latest NAP (Name, Address, & Phone Number) details and photos of the actual store/ office.
Why Should Growing Brands Hire ORM Experts
We've already talked about how much negative reviews can affect SMBs. And since you are busy growing your business and expanding into new markets, it becomes necessary that you present a positive opinion of the brand.
Considering that most of your time, effort, money and other resources will be invested in developing the business (the products and services), it makes sense to hire experts to handle digital marketing, branding, and ORM services.
Things to Consider When Hiring Branding and ORM Consulting Companies
It's easy to say that you need a third-party service provider to take care of branding. How will you choose the right service provider for your business? What sets the best apart from the rest?
Flexibility and AffordabilityHiring a company that is known to be a one-stop solution for all your branding and digital marketing services (including ORM) will save money in the long run. You should be able to choose only the services you want.
Transparency and No Hidden ChargesBe it the working process or the price package, transparency is crucial when hiring a service provider. If an ORM company asks for additional charges to provide services that should be included in the package, you are better off finding another company.
Black hat vs. White hat SEO TacticsExperienced professionals avoid black hat tactics like a plague. They know it can ruin your online reputation and push your business into losses. Branding is a time-consuming process, and short-cut methods generally mean black hat techniques.
Customized ServicesThough companies have price packages, they are open to customizing a service package to suit your business needs. The strategies they implement are carefully planned based on the type of business and tone of negative reviews.
Conclusion
Once you realize the importance of ORM for your business, you will want to hire only reliable and trustworthy service providers. Sites by Sara is an experienced web development and digital marketing company that offers effective ORM services for affordable prices.
Contact today for more information.