Comparing SharpSpring and HubSpot for Small Business Email Marketing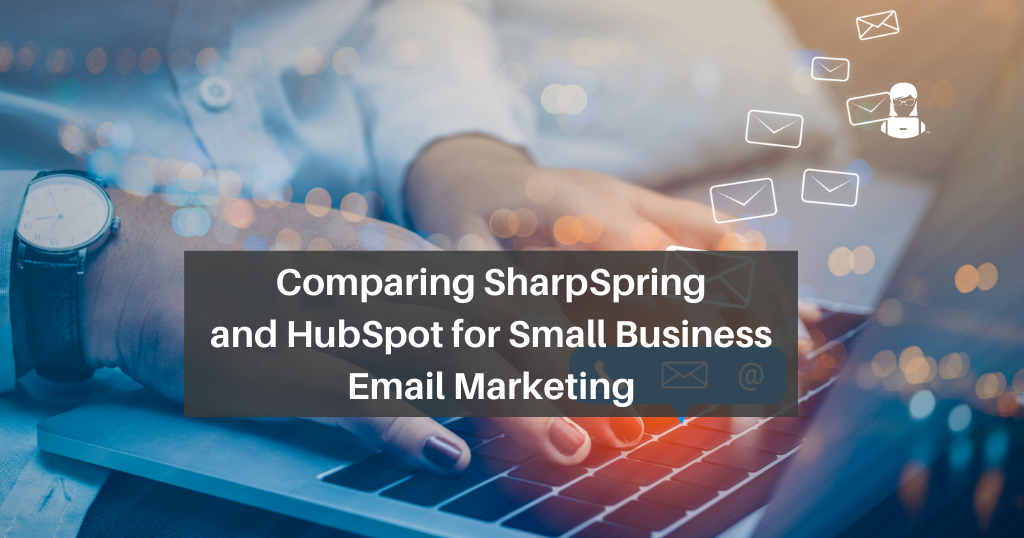 Email marketing continues to be one of the most powerful marketing channels for modern companies. Virtually every company doing business online relies heavily on email marketing to connect with more customers, provide better customer experiences, and ultimately grow their brands. Small businesses across the country can leverage the power of email marketing just as fluently as larger companies when they have the best email marketing tools.
Sites by Sara offers a full range of managed digital marketing services, including marketing automation and customized content delivery that suits your target audience. We also want to provide our clients with as much useful advice as possible when it comes to the platforms and applications that can make their marketing easier to manage. Two of the leading SMB marketing tools available today are SharpSpring and HubSpot. Consider a few of the features and details of these two systems if you're looking for an easier solution to email marketing for your small business.
What Is SharpSpring?
If you're looking for an agency-specific solution to email marketing, SharpSpring may be one of the best SMB marketing tools for your enterprise. The SharpSpring system creates automated workflows based on user behaviors. The more recipients interact with your email, the more tightly automated these workflows become. SharpSpring can eventually enable your team to effortlessly develop customized email delivery processes for different types of recipients.
SharpSpring also makes it simple to integrate your email marketing with social posting and sales tools. It's also affordable and a great agency-level solution since the platform offers a month-to-month subscription agreement in lieu of the standard annual fee. SharpSpring users will have access to an intuitive analytical reporting dashboard and a dedicated account manager who can provide live support at virtually any time.
Email Marketing from HubSpot
One of the leading marketing platforms for companies of all sizes for several years is HubSpot – and for good reason. HubSpot offers an attractive suite of features to position itself as the ideal solution for digital marketing, sales, and customer relationship management. Subscribers to the HubSpot platform pay an annual fee. In exchange, they receive access to unique benefits like SEO optimization tools, A/B testing processes for landing pages, and entry to the HubSpot Academy.
Part of the draw of the HubSpot platform is its reported ease of use. However, this functionality comes at a relatively steep price even for smaller enterprises, and a basic service plan may not include every feature you expect from your email marketing solution. If you are comparing the best email marketing tools available, HubSpot and SharpSpring are two of the most popular and most highly reviewed on the market, but it's vital to conduct an in-depth comparison to evaluate how they might perform for your needs.
SharpSpring Vs. HubSpot
HubSpot may offer a wide range of features, but it can be costly, starting at $40/month, but going up to as much as $3200/month, and locks users into annual agreements. The pricing for HubSpot services increases dramatically when more user accounts are added to a service agreement, whereas SharpSpring offers much more flexible pricing. This alone makes SharpSpring one of the best email marketing tools available for small businesses at a very reasonable price point.
HubSpot is a good choice for small teams with minimal need for expansive contact lists. However, starter plans may not offer the specific features users want, whereas all SharpSpring users have access to all of the platform's features regardless of how many contacts they require.
Another major drawback to the HubSpot platform is that the user agreement essentially turns your clients over to HubSpot; they become a branded managed service that handles your clients for you. This may not be agreeable to every operation. The reseller/white label affiliate model that SharpSpring offers is much more attractive to many organizations seeking an agency-level enterprise management platform with solid SMB marketing tools, and SharpSpring is typically available at a fraction of the cost of HubSpot, with pricing starting at $550/month, up to $1250/month.
With SharpSpring, you will never need to worry about altering your subscription every time you need to add new functionality or alter your existing analytical system. HubSpot tends to piecemeal their added services, whereas signing up for SharpSpring for any number of contacts automatically provides access to the platform's entire range of features. What SharpSpring lacks in marketing automation and SEO optimization, it more than makes up for in value and ease of use.
Take Advantage of Superior Email Marketing with SharpSpring
Ultimately, SharpSpring is one of the best email marketing tools for any small business that wants an agency-level solution with a complete set of features available as soon as service begins. Instead of resigning control over to HubSpot as if they were your marketing agency, SharpSpring empowers you to have more control over digital marketing and customer relationship management for your business.
Any email marketing tool can be expensive for a larger company, so if your business is growing, it's vital to consider scalability as you compare the best email marketing tools available for your organization. While SharpSpring may seem expensive to very small companies, the platform offers specialized agency-level pricing with no long-term commitment. HubSpot, on the other hand, becomes dramatically more expensive as your contact list grows. If your business is positioned for rapid growth, HubSpot may not be the more affordable option for very long.
Choose a Marketing Agency Partner for Better Email Marketing Results
Ultimately, it's essential for any small business to take full advantage of the potential email marketing offers. Navigating all the options for SMB marketing tools available today can be challenging when you are trying to run a business. Working with an experienced marketing agency can be an incredible help to your business. You can have more control over your email marketing than you might expect with the right partner.
Sites by Sara believes in empowering our clients with the tools they need to achieve their marketing goals with confidence. If you are looking for an experienced marketing agency to help you develop a more effective email marketing campaign and a system to manage it, we are ready and able to assist you. Call or Text Sites by Sara at (385) 355-5351 to learn more about the best email marketing tools we can configure for your small business.