What Credit Card Processor Best Suits Your E-Commerce Needs?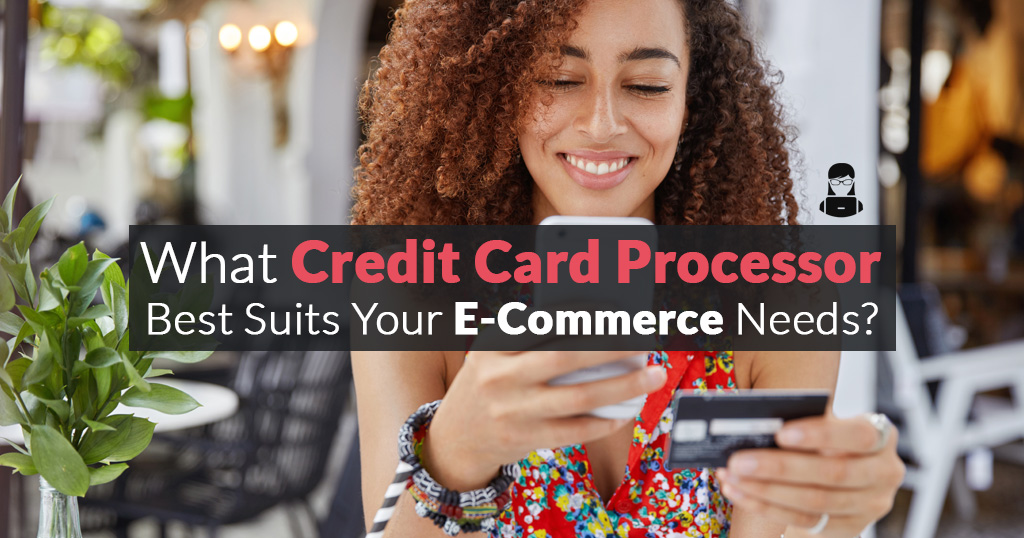 Disclaimer: The information contained herein is accurate according to our research, as of the time this post is published. Merchant rates and information are subject to change; we suggest that you read the fine print and confirm any rates or other information with each merchant directly.
In modern society, the online world grows larger every day, with numerous activities becoming more attractive in digital form, shopping included. Given this rapid expansion, it makes sense that so many business owners have invested in developing visually compelling websites to market their products and services, allowing them to benefit from the popularity of this global network.
To be a successful e-tailer online, your website look impressive and function smoothly. One key part of branching out to e-commerce is doing so in a way that is affordable to your business' bottom line. Accepting e-payment does result in fees of all kinds. Selecting the right credit card processor is no small task, and it's easy to become overwhelmed with so many options. That's why we've created a detailed analysis comparing some of the best credit card processors available, so you can decide for yourself which one is best suited to your business needs.

Monthly fee: n/a
Charge per transaction: 2.9% + $0.30
Founded in 2009, Square remains one of the better-known options for small business owners. In addition to allowing you to process credit card transactions online, Square offers several other features for free, including a dashboard, invoicing, reporting and analytics, money transfers, a business debit card, a cloud-based customer directory, a team management portal, and the ability to offer electronic gift cards. Another benefit of Square is that there is no need for an additional merchant account; its system can handle every payment collection aspect and is fully PCI compliant. It includes all the above without charging any subscription fees, making it a very attractive choice for independent business owners on a budget. However, keep in mind that funds are transferred within one to two business days unless you're willing to pay for instant transfers.
For users seeking to use Square as more than just a credit card processor, additional features can be unlocked, including an employee payroll system priced at $29 per month + $5 per employee per month, a contractor payroll system priced at $5 per contractor per month, customer loyalty programming starting at $45 per month, email marketing starting at $15 per month, and gift cards starting at $0.80.

Monthly fee: starts at $99
Charge per transaction: $0.15
FattMerchant is a subscription-based credit card processor, but the monthly fee includes several other services in addition to the ability to handle e-commerce, and the system is extremely compatible with whichever point of sale system you prefer to use on your site, although it does have its own payment gateway available. Its Omni platform allows subscribers to manage various aspects of their businesses in the location, including inventory, customer information, financial reports, and a customer support team ready to answer your every question. Money transfers through FattMerchant are instant, allowing you immediate access to your funds.
One unique feature it offers is the ability to pause the subscription, making it a particularly convenient choice for seasonal businesses. Some types of businesses only operate during certain months. The ability to take advantage of Fatt Merchant's flexible plan allows businesses to be smart when allocating their resources, paying for services only when necessary. It also allows you to create invoices. If these services suit your business's needs and you determine FattMerchant is the ideal choice for you, let them know that Sites by Sara sent you.

Monthly fee: starts at $30
Charge per transaction: 2.9% + $0.30
PayPal is another well-known service, having been established since 1998; however, in 2005, it offered businesses the opportunity to upgrade their accounts to the newly released PayPal Website Payments Pro, now known simply PayPal Pro. PayPal's services have always been widely accessible to all the most-used forms of currency worldwide, making it a particularly attractive choice for businesses that deal with global markets.
PayPal Pro gives business owners the ability to have clients check out through their business's website, instead of being redirected to PayPal's site. For those already familiar with PayPal, upgrading is a simple process and provides a much more immersive, customized user experience. The options make it easy to do business in different currencies and the system offers add-on services such as recurring invoices for just $10/month.

Monthly fee: n/a
Charge per transaction: estimated at 2.5% as of 10/13/20
Atrium prioritizes customer safety and ease of use with the services it provides. It has a PCI-compliant payment processing solution for e-commerce and integrates with the most popular e-commerce platforms seamlessly. All credit card information is encrypted for user safety, and it applies additional security measures such as tokenization to protect client identities. In addition to serving as a credit card processor, it also provides customizable fraud monitoring services. Atrium is most relevant to businesses that are particularly concerned about security.

Monthly fee: quote necessary
Charge per transaction: quote necessary
Swoop provides businesses with the lowest fees possible in comparison to other alternatives. Because of this, it works individually with each business owner to generate a quote that fits within its budget. It offers additional savings to start-ups and new businesses, and in addition to its credit card processing services, it also performs free security reviews. Swoop's payment system is compatible with many online web hosts popular amongst said businesses, such as Shopify and WordPress, to be more accessible to small businesses. Altogether this is a tidy, low-cost package that checks all the basic boxes of an e-commerce payment solution.
How to Decide Which Option Is Best for Your Business
The truth is that all the above options can provide the necessary credit card processing services your business needs to operate. However, the different structures, pricing models, priorities, and extra features all make each of the options uniquely beneficial to different businesses. To determine which one suits you best, you need to consider a few key aspects of your business. What is your budget? What is the size of your business? On average, what amount of transactions take place on your website? Is your business ever closed for prolonged amounts of time? Do you have serious security concerns? Will you need additional features to help manage your business or identify growth opportunities?
All this information will help you narrow down your situation's specific needs, allowing you to make an informed decision, but it can be difficult to start. That's why at Sites by Sara, we are prepared to walk you through the process, ensuring that you end up with the tool that is most effective in your case. For more details on how Sites by Sara can help you become a leading online vendor, call or text us at (385) 355-5351.