7 Reasons to Have a Blog on Your ECommerce Website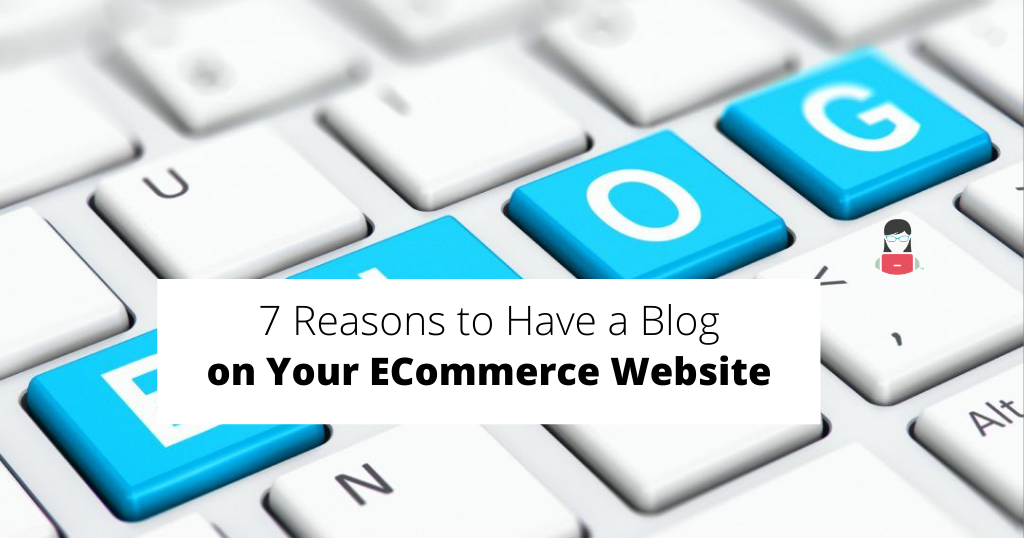 Whether you're new to eCommerce and are putting the final touches on your online shop, a brick and mortar shop owner venturing into the eCommerce market, an experienced online seller, or someone in between, you've probably spent considerable time and effort on your eCommerce website. If you've had anything but a quick and dirty introduction to the ins and outs of eCommerce, you've spent much of that time making your page informative and intuitive for your target audience. Once you've optimized the photos and the product descriptions are perfect, you're likely left wondering about the best way to market a new eCommerce website.
Why You Should Have a Blog on Your Site
The primary purpose of any eCommerce website is to showcase and sell your products, but the steps you take to drive user traffic to your page effectively are just as important as the functionality of your website once a potential customer lands there. In an age where eCommerce is king—generating nearly $600 billion this year in US profits alone—attention to how to draw in more users and how to engage them on your website are both crucial avenues to help you seize a larger piece of the pie. Fortunately, there is one action you can take to help your website on both fronts—developing an eCommerce blog.
Endeavoring to add a blog page to the website is one of the most important steps you can take to increase web traffic and user engagement. Blogs help both efforts in several ways, all of which ultimately benefit your bottom line. We've compiled the most important benefits below.
1. Engaging Your Users
An eCommerce website without a blog serves one purpose, and one purpose only—selling your products to consumers in the moment. However, once a purchase is finished, or once the user has decided to hold off on making a purchase decision, you've done nothing to continue engaging them further—and nothing to inspire a future purchase or urge them to reconsider. With a blog, however, you can engage with customers long before and after the purchase process. You can use your blog to tell brand stories, share customer successes, and even post photos or videos relevant to your customer base.
2. Search Engine Optimization (SEO)
Another major benefit of adding a blog to your eCommerce page is the potential traffic you stand to drive to your website. Adding high quality, informative content is key to indexing with Google and the other major search engines. It gives you the ability to naturally incorporate keywords and phrases your audience is likely searching for when they're in the market for products like yours. Better yet, you can share your new blog posts on your social media pages (and perhaps inspire more shares from other industry experts), boosting your backlink profile and helping you rise higher on the search engine results page (SERP).
3. Showcasing Your Expertise
Many prolific online sellers wonder, "What is the use of blogs on websites" when it comes to eCommerce—until they realize the true potential of showcasing their expertise via a blog. You can utilize a blog to feature tips, tutorials, and product use information your audience is likely searching the web for, or show thought leadership in your industry. You can also share industry news and information to firmly establish your brand as an expert source of information for your users.
4. Building Your Brand
The importance of marketing with an eCommerce site cannot be overstated—you have a great product, and you need to inspire interest in your brand and build brand loyalty to reach the sales numbers you require for success. A blog is an ideal low-cost way to do just that. Use your blog to demonstrate your brand values and highlight contributions you make to your community or the world at large. Incorporate fun, expert, professional or other posts that speak to your brand's identity to continue to build user engagement in your brand's story.
5. Maximizing Your Social Reach
As mentioned above, blog posts shared on your brand's social media pages are an excellent source of backlinks for SEO purposes. However, sharing information on the sites your users utilize daily is also a great way to ensure your information reaches the right people's eyes. Even better—if you create high quality, useful content for your blog—a thoughtful post, an infographic, or a video—you may find that your content goes viral, driving more traffic to your page than ever before.
6. Creating Meaningful Interactions
When you share your blog posts on social media or enable comments on your blog post itself, you invite user commentary on the content, your brand, or even the products themselves. Making an effort to respond to each comment thoughtfully provides you with an excellent opportunity to interact with your client base and even build a community of users online. These meaningful interactions can influence user perception of your brand and drive traffic to your eCommerce page.
7. Driving Conversions
Of course, the ultimate purpose of any eCommerce page—and any business, for that matter—is to drive conversions. Each of the benefits listed above helps send more traffic to your page, build user confidence in your brand's expertise and the products you sell, and feel reassured that making a purchase is a good decision. Together, all these elements help you increase your conversion rates.
Still Uncertain? We Can Help
Adding a blog to your eCommerce site has several great benefits, but only if you handle it properly. If you're still uncertain about how to have a blog on your website or need help creating the type of quality content that will get your eCommerce site ranking high on Google's SERP, Sites by Sara can help. Whether you need SEO and keyword help, prefer to utilize content creation services, or have questions regarding how a blog can boost your conversions, call or text us today at (385) 355-5351.