5 Benefits of Multilingual Website Design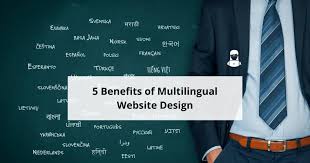 You've developed an outstanding product or service, potentially built an effective eCommerce or information-based strategy, worked to drive potential clients to your page, and invested in a beautiful website designed to encourage conversions. Now, with your organization in the expansion stage, you're faced with growing your web presence to capture new leads. However, for many business owners, the thought of undertaking a new project can seem both financially daunting and time-consuming. Fortunately, there's a way to expand your reach without expending a lot of resources—building a multi-language website.
Multilingual Website Design Makes Good Sense
By definition, a multilingual website is a website that includes content in more than one language; therefore, if your site is currently English-only, making the change involves a process called multilingual website design. The terms website design and building a website, as well as multilingual, can seem intimidating if you don't speak or write more than one language yourself. However, website translation is a straightforward way to reach new users without devoting a large portion of your marketing budget to a new project.
In fact, including content in multiple languages offers numerous benefits—not the least of which is competing with the hundreds of thousands of other websites whose owners have already made the effort. Before you begin, it's important to learn about all the most essential benefits of multi-language website design. We've compiled a number of them for you.
Benefit #1—Reaching New Users
The ability to reach new users who utilize languages besides English is the most obvious benefit of multilingual website design because it is the most important. Recent statistics show that only about 25% of the world's people speak English as their primary language, and older surveys show that people prefer to do business in their native tongue. A full 90% of people surveyed stated that they never browse websites presented in another language. Over half of them stated that being able to purchase a product in their native language was a more important purchase factor than price. Thus, a multilingual website may not only help you capture new users; those users may be willing to pay more in the process.
Benefit #2—Reaching New Markets
With that in mind, if your business is ready to begin expanding into new markets in other countries, you'll benefit from optimizing your on-page content for the location. Consider your website your pitch, which needs to be adjusted to fit your audience—then, make an effort to translate your content into the predominant language in that location. Consider the customs, traditions, and values you'll need to reflect on your page to do business in the region.
Benefit #3—Improving Search Engine Optimization (SEO)
SEO is likely one of your primary marketing efforts, and for a good reason—designed to help you rank near the top of search engine results pages and drive organic traffic to your page, SEO can help you grow your business effectively. In the same vein, multilingual website SEO can help search engines determine which languages your website is written in and suggest the appropriate pages for users searching in a particular language and locale. Additionally, by using multilingual SEO best practices, you'll bolster your ability to keep more users on your page, improving bounce rates and boosting your rankings.
Benefit #4—Building Brand Trust
Although there are many benefits of making English the official language of your website, users who do not read or write English may feel uncertain about purchasing in another language. The fact is that most consumers feel more comfortable researching a product and making a purchase in their native language. Offering multiple languages on your website not only helps build trust in your website and products, but it also shows your organization is caring and trustworthy enough to help your users in any way possible.
Benefit #5—Increasing Your Sales in a Cost-Effective Manner
Combining the above benefits ultimately serves to drive user traffic to your page and make customer conversions more likely for users of all languages. By entering more markets with content crafted to fit the audience there and inspiring trust in your brand, multilingual websites have the potential to help you grow your business with increased sales. Better yet, if you already have a well-designed website that functions to serve your brand's major purposes, building a multilingual website is a cost-effective way to achieve your desired growth.
Multilingual SEO Best Practices
Once you've decided to create a multilingual website to aid in your organization's growth, it's important to keep in mind that there is much more to building a multilingual site than simply translating all your content. The decisions you make while creating your new multilingual page should adhere to the following common, multilingual SEO best practices:
Create a separate page for each language. Featuring translations below your current product descriptions, for example, is confusing to users and search engine crawlers alike. Instead, build multiple duplicate pages, each in a single language. Then, make an effort to consider the cultural implications of your content for each locale.
Help search engines identify the primary language. Identifying the language used for each page helps search engines supply the proper page for each user group. In addition, human users can easily determine whether a page is optimized for their language simply by viewing the URL. Add a language identifier snippet and change the slug (the portion after the domain extension) to reflect this. For example, change www.yourbusiness.com/home to www.yourbusiness.com/es/inicio for Spanish users.
Allow easy switching between languages. Ensure your language toggle switch is easily identifiable and accessible from any page on your site. Then, clearly label page links, so the language of each page is obvious before access. These efforts enable your users to decide which language to use without navigating through several pages.
Ensure you're utilizing a knowledgeable translator. Online web translators are free and simple to use. Unfortunately, they don't always catch the finer grammar-related points like a native speaker may, which can leave your website looking unprofessional or untrustworthy. Investing in a professional translator's services can help you address this issue for a relatively low cost.
Start Optimizing Your Multilingual Website Today
If you're uncertain regarding the ideal multilingual SEO-friendly best practices or how to build a multilingual website, a professional web design team can be your best resource. Sites by Sara offers a wide array of digital marketing services, including web development, SEO, content creation, and more. Call or text (385) 355-5351 for more information on how to get started.