Redesigning Your Website: A Checklist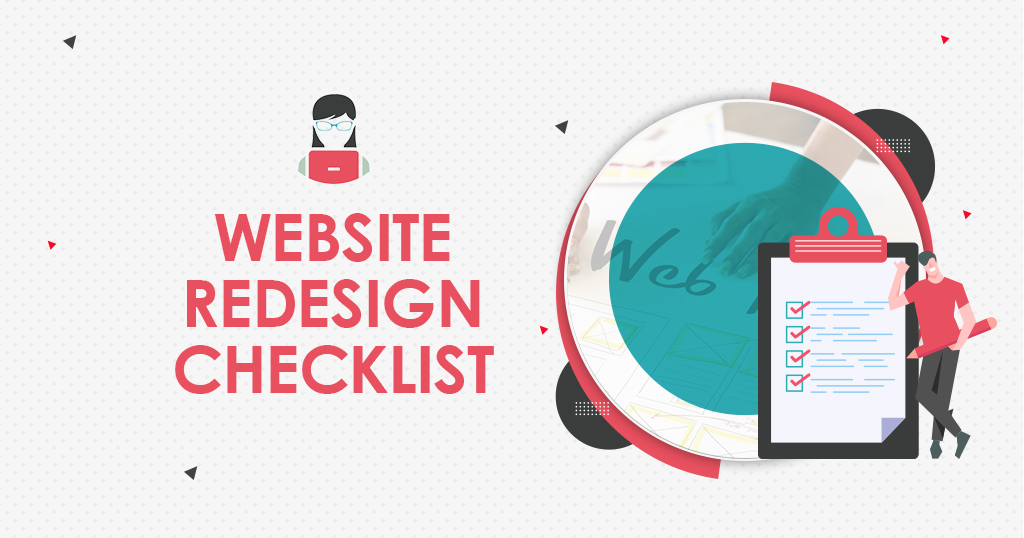 So here you are, ready to give your website an overhaul. You've done your budgeting, you have a vision, and you're ready to go. Before diving into a huge project such as this, it's important to be sure that you've considered all of your options and you have a good plan going forward. When it comes to website design, it's easy to get caught up in both generalizations and trivial details. Everything has to be considered carefully, and it's easy to get so lost in this work that you make big mistakes that hinder your website's desirability and efficacy. Before beginning, run through our handy dandy checklist to avoid costly mistakes.
Consider a Professional
Though sites like Weebly and WordPress make it easy for anyone to design their own website, these platforms are mostly panache without the substance. Though it's fun to design a website on your own, the host sites for these self-made websites don't have any responsibility for keeping your site up to date, implementing powerful SEO tactics, or keeping your site relevant with Google's Core Web Vitals. What you save in doing it alone for free will pay twofold in underwhelming sales, low site hits, and questionable security. Finding a professional to help you will not only allow your specific aesthetic vision to come to life, but they will also be able to implement tactics that can help grow your business.
Be Honest About What Isn't Working
Though it can be difficult to self-critique, it's important to take a good hard look at your website and where it's falling short. How are your website hits? Have you had any e-commerce issues? Does it load quickly and smoothly? Being ultra-honest with yourself when doing a website redesign can ensure that you are making the most out of your overhaul. Pull up your website on a computer, tablet, and phone to make sure all versions of the site are working properly. If you have access, check the site on both a Mac and a PC. Ask your friends or employees to hop on and tell you how it works for them and what they notice most. Approach a friendly neighbor and have them take a glance. Staring at your own website can make you blind to its flaws. Fresh eyes, even if those eyes don't belong to a professional designer, can help highlight things you may no longer notice after looking at your site for so long.
Assess Your Content
Though the most exciting part of a website redesign is often choosing flashy new fonts and colors, none of that will matter much if your content sucks. Decorating a cake will only go so far if you forgot to put in the eggs. Your website's content should clearly express your company's mission and values and give viewers the information they can't find anywhere else. Using relational platforms such as blogs or newsletters is a wonderful way to give information about your company and what it does without having your website exist only as an ad for your company. Blogs help folks engage with your website even if they aren't in the market for what you're selling. Ensure that there is meaningful and worthwhile information in your content that has been researched thoroughly and contains dependable data. For all of your content, be sure that it's well-written, grammatically correct, and is easy for readers to comprehend. If writing and editing aren't your strong suit, consider hiring a copywriter to do it for you. It's well worth any money you might spend to have quality content on your website.
Focus on User Experience
The biggest shift in website design trends this year and going into 2021 has been the newfound focus on User Experience (UX). Up until now, the focus has been on simply having the correct information and making sure it becomes available when people search for it. With the expanse of information available on the internet, the name of the game is making the website accommodating and easy for viewers. No longer is data the only important thing about the website. Usability is also key. There are several aspects of the concept of UX that make it revolutionary. Because these aspects all focus on the consumer, the popularity of sites with good UX can skyrocket. The central questions surrounding UX sum up the values of this new direction in website design:
Is the site useful?
Is the site usable?
Is the site valuable?
Is the site findable?
Is the site desirable?
Is the site accessible?
Is the site credible?
Ensuring that the answer to all of these questions is 'yes' means that you've effectively focused on your users' experiences with the website and not just the website itself.
Update SEO and Core Web Vitals
Though UX is king, you still have to be sure that your SEO is up to date and working with Google's most recent algorithm and any changes in technology or manner of searching. Keywords and tags that allow for easily accessible information is key, as well as making sure that your SEO is tailored to talk-to-text as well as typing. Google announced that they'll be implementing Core Web Vitals in 2021, a new set of criteria that will prioritize websites that work well and load quickly. Making sure your site redesign has competitive web vitals will make sure that your new site comes up more effectively in search engines.
Finding a quality website designer will ensure that this checklist is taken care of, and your site comes out looking and working at its very best. Don't waste time and resources trying to finagle website redesigns through gimmicky DIY websites and invest in someone to do the heavy lifting correctly. The experts at Sites by Sara lead the industry in implementing innovations into web design and keeping up with design trends. There is no team who can better assemble your new website, all while empowering you to take charge of your online presence. Contact us today!